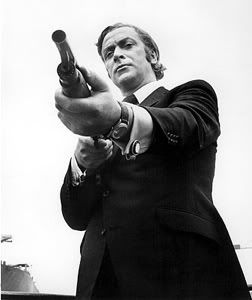 Roy Budd: Get Carter Theme
Roy Budd: Getting Nowhere In a Hurry
From Roy Budd Plays and Conducts Great Songs and Great Themes from Great Films (Pye, 1971)
Besides being one of the great Michael Caine films – back when he was brooding and cold as ice – Get Carter also was laced with one of the better soundtracks courtesy Roy Budd. I don't have a ton to say about them except to laud them as slick pieces of background music that capture a style and atmosphere both subtle and precise. Budd brings in a very eclectic set of sounds here, it's definitely beyond just an ominous loop. "Getting Nowhere In a Hurry" is especially great with its balance between those choral vocals and the instrumental passages (lovin' the clavinet).
I was surprised to learn that the original soundtrack for Get Carter is exceptionally rare; a real Holy Grail find. Luckily, some of Budd's main compositions ended up on the more affordable (though not dollar bin) Plays and Conducts Great Songs comp from the early '70s.