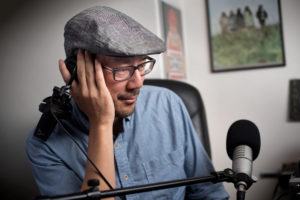 From the fall of 2017 through summer of 2021, myself and music supervisor Morgan Rhodes hosted the weekly album appreciation podcast – Heat Rocks – via the MaximumFun network. The show is currently on hiatus but we're both interested in bringing it back once the circumstances make it more feasible to do so.
Since 2011, I've recorded personally produced podcasts under the umbrella name, The Sidebar, which includes interviews (The Sidebar), music shows (Record Wheel) and deep dives into singles (Single Servings).
---
I got my start in radio back at KALX FM in Berkeley. Between 1994 and 2004, I more or less hosted a weekly show (first called The Paths of Rhythm, then The O-Zone) for those ten years. I haven't digitized many of those episodes but here are a few for your listening pleasure.
I returned to doing a radio show — The Shades of Soul — between 2013-2015, for the now-defunct Radio Sombra in Boyle Heights. I resurrected the show in early 2020 for Artform Radio on WorldwideFM. My episodes now air every third Thursday of the month. Here's a running archive of every Shades of Soul show I've done on either station but I've included a few of the recent episodes for your convenience below: