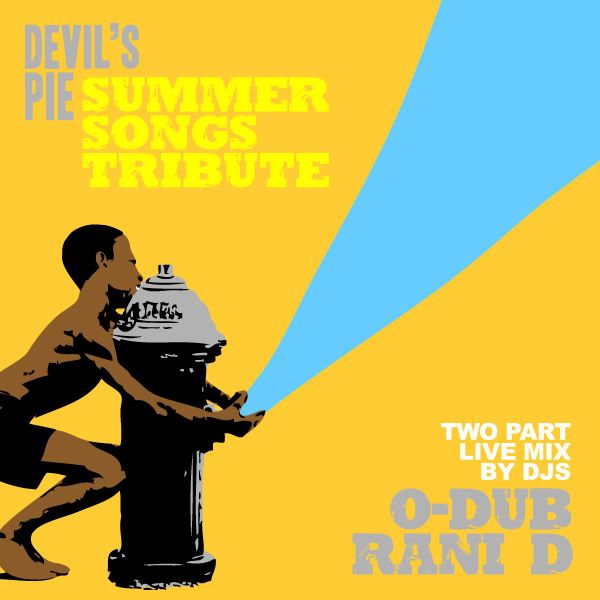 Back in August, me and Rani D put together two different summer songs themed sets right towards the end of the season. Devil's PIe now has 'em available for download. Here's the tracklisting:
PART 1 – DJ O-DUB
1. Heatwave "Star Of The Story"
2. Smif N' Wessun "Ain't Nothing More But the $"
3. Erykah Badu "Fall In Love"
4. Stro "BTL"
5. Fat Joe "Slow Down"
6. Gary Wright "Love Is Alive"
7. Big City "Love Dance"
8. Organo Bailable "El Preso"
9. TNT Band "Making Tracks"
10. Byron Lee "Soul Ska"
11. Grupo Yoyi "Banana"
12. Skye "Ain't No Need"
13. Cumbia Moderna De Soledad "Cumbia En Ingles"
14. Billy Stewart "Summertime" (Live)
PART 2 – RANI D
1. JR Bailey "Just Me n'You"
2. Tommy & the Shondells "Crystal Blue Persuasion"
3. Patti Drew "Tell Him"
4. William Devaughn "Be Thankful For What You've Got" (interlude)
5. Donovan Carless "Be Thankful For What You've Got"
6. Brent Dowe "Reggae Makossa"
7. Barry Biggs "Love Come Down"
8. Black Harmony "Don't Let it Go to Your Head"
9. Dennis Brown "Black Magic Woman"
10. Sade "Love is Stronger than Pride" (Mad Professor Remix)
11. Commodores "High on Sunshine"
12. De La Soul "Sunshine"
13. Outkast "Crumblin' Erb"
14. B.U.M.S. "Free my Mind"
15. Boogiemonsters "Honeydips in Gotham"
16. Bush Babees "S.O.S."
17. Sergio Mendes "Promessa de Pescador"
18. Os Ipanemas "Jangal"
19. Seu Jorge "Bem Querer"
20. Betinho "Supermanoela"
21. Guem "Topil
22. Giovana "Tatarue"
23. Dr. Buzzard's Original Savannah Band "Sunshowers" (Remix)
24. Manu Dibango "Senga"
25. Luciano Perrone "Samba Vocalizado"
26. Jorge Ben "Carolina Carol Bela"
27. Martinho Da Vila "Disritma"
Enjoy!