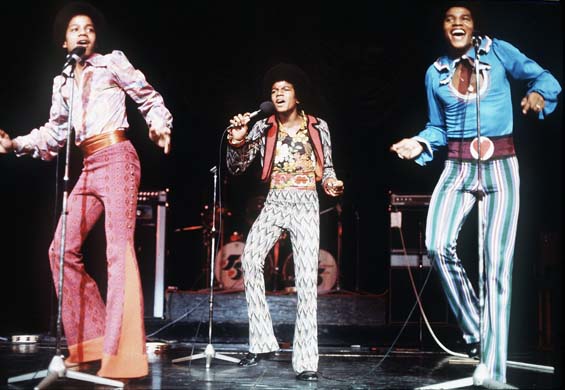 Last Thursday, Wil and I put together a night o' Michael, capped with a two hour set of straight M-J-5 songs that pretty much had the dance floor filled from start to finish.
Anyone who has every DJed any party, anywhere knows that when everything else fails, you can always put on some MJ and it's like Insta-Party. As a fellow DJ wrote, "MJ has always been the most "guaranteed go-to" artist for DJs in the history of DJs." True that.
The thing is…it's so easy to get the party started with MJ, it's like an unfair advantage over the audience. It's so easy that I've usually avoided playing anything too obvious by MJ simply because…it's too easy.
And I was thinking: who else comes close to having that kind of power? The only artist even in the conversation is Prince but even then, we're talking about Purple Rain-era Prince mostly whereas with MJ, you can drop everything from "I Want You Back" (1970) to "Don't Stop 'Til You Get Enough" (1979) to "Billie Jean" (1982) to "Smooth Criminal" (1987) and it's on like Donkey Kong.
But this post actually isn't about those songs. You don't really need me waxing poetic about "Billie Jean" or "I Want You Back." I'm here to dig beneath the #1 hits and offer up a playlist of some of my favorite M-J-5 related songs/covers/remixes that bring out the full spectrum of the artist and group's styles.
The M-J-5 Mix (2009) by Soul-Sides.Com/O. Wang on Mixcloud
Jackson 5: Big Boy
From 7″ (Steeltown, 1968).
I learned about "Big Boy" gigging with some excellent soul selectors up in San Francisco and it's been a favorite "end of the night" ballad to throw on. What's remarkable here is that Jackson is…what? 9? 10? And yet listen to him try to sell his "age ain't nothin' but a #" smooth mack game. This song was evidently re-recoreded (or released with a separate mix) but I prefer the original 7″ version. It's less cluttered which allows the vocal's poignancy to shine forth.
Jackson 5: Zip-A-Dee-Doo-Dah
From Diana Ross Presents the Jackson 5 (Motown, 1969)
An odd choice I know, least of which is the disturbing relationship to Song of the South and Disney's minstrel embrace. But forgive me for just finding this cover to be strange and kind of compelling. I mean, it's the Jackson 5 covering "Zip-A-Dee-Doo-Dah". 'Nuff said.
Jackson 5: 2-4-6-8
From ABC (Motown, 1970)
"ABC" is a cold classic, no doubt, but personally, I find myself bumpin' its numerical kin more often. I suppose Motown thought it'd be too shameless to drop this as a single too but for a formulaic song, it's irrepressibly catchy, no?
Jackson 5: Darling Dear
From Third Album (Motown, 1971)
Pet peeve: no one in the Jackson camp or Motown brain trust could come up with a better title than Third Album? That aside, "Darling Dear" is one of those hidden gems from the MJ5 catalog that I only discovered recently (more on that later) and *whistle* what a beauty of a song.
Nancy Holloway: Un Amour Aussi Grand
From 7″ (Barclay, 1971)
Ah yes, the lovely Nancy Holloway, singing the big hit off of the Maybe Tomorrow album in français. Frankly, this song would probably work in Klingon but if you had to pick a non-English language for this, French is not a bad way to go.
Jackson 5: I Wanna Be Where You Are
From In Japan! (Motown Japan, 1973)
Jackson's first solo album, released when he was all of 13, made a clear statement that he was as competent and capable rolling on his own as he was surrounded by his brothers. "I Wanna Be Where You Are" is one of the three big singles off this album (though I think far less people remember "Rockin' Robin" as compared to the title song) and has one of the most memorable opening lines in any pop song I can think of: "can it be I stayed away so long?" (Note: I love how it pops up on this song).
Hua first put me up on this live version of the song, recorded during the Jacksons tour for Japan in 1973. I actually like 1) how they take out the guitars, which I always found a bit overpowering in the mix and 2) the audience handclaps in the background. (Zulema also does a great version of this song, which I included for an NPR.com piece that should run early next week.
Michael Jackson: We've Got a Good Thing Going
From Ben (Motown, 1972)
Let's first say – best album featuring a rat on its cover, ever. Second, of all the songs I've been revisiting, this is the one that has me in straight rewind mode. Love the production – The Corporation execute beautifully on the rhythms and textures of this ballad and the songwriting is memorable without being overly simplistic. This song doesn't just "work" – it (and god help me, I really couldn't find a better phrase to use here even if it sounds like total boilerplate)…sings.
Love. It. Love. It. Love. It.
(By the way, someone pointed out that Sugar Minnot recorded a cover of this – crazy.
DJ Bobo James: Good Thing Goin'
Michael Jackson: We're Almost There (DJ Spinna Remix)
Both from Soul Source: Jackson 5 Remixes, Vol. 2 (Universal, 2001)
I should give credit – the main reason I know anything about either "We've Got a Good Thing" or "Darling Dear" is because I first heard the two songs combined in an awesome remix by DJ Bobo James. The first part of the song is playing off of "We've Got a Good Thing," especially the piano melody and then, midway through, he shifts to work off the strings of "Darling Dear." Put together, it's just a beaut of a song and it fueled my desire to hear the originals.
On the same album, DJ Spinna drops another incredible remix, this one for "We're Almost There," from Jackson's slept-on Forever, Michael LP (his last for Motown). Wil ended our MJ tribute with this song and it was perfect. Dare I say but I think Spinna actually improves on the original here by stripping things down and building around the intense mix of hope and melancholy sublimated into Michael's vocals.
Michael Jackson: Don't Stop 'Til You Get Enough (demo)
From Off the Wall (Remastered Edition) (Epic 1979/Sony 2001)
Not all demo versions are necessarily worth a listen but in this case, the demo reveals so much about the musical process that resulted in one of the best songs off of Off the Wall. I really like how it sounds here, all stripped down and unglossy.
For my NPR.com piece, I included the fantastic Derrick Laro and Trinity version of this song.
SWV: Right Here (Human Nature Duet, Demolition Mix)
From Remixes EP (RCA, 1994)
Ok – we've arrived at Thriller (and I skipped over quite a few M-J-5 albums prior to this, I'll try to revisit those in a later post). Remember when SWV was kind of running sh– back around '93/'94? Their remix EP finally cobbled together some of their stronger material, including that Wu-Tang remix of "Anything" that caught serious play for a hot minute. But you really couldn't front on the smoothness that was the "Human Nature Duet" mix which blended together "Right Here" and "Human Nature." To this day, I've wondered if they actually cleared the MJ and if so, what it cost them to do so.
Michael Jackson: Pretty Young Thing (Demo)
From The Ultimate Collection (Sony, 2004)
In no way does this trump the awesomeness of the album version but it's interesting just to hear this super-quiet storm approach to the song in its infancy stages.
Floetry: Butterflies (demo)
From Floetic (Geffen, 2002)
I didn't realize until now that "Butterflies," my favorite MJ song post-Thriller (and featured on his 2001 Invincible album) was actually, originally, a Floetry song, recorded by them in 1997 which MJ then basically re-recorded his vocals over. The tracks are almost identical except that the original Floetry version has that doubling of the snare every two bars or so which sounds somewhere between "cool" and "clunky." Otherwise, if you put this and MJ's up, side to side, you can hear how close they are. And I have to say…I think Jackson has the better vocal performance here (but hey, it's Michael).