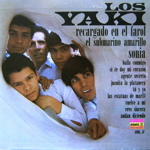 Mikis Theodorakis : Cafe Rock
taken from the soundtrack album "Z" on Columbia (1969)
Sum Sum : Mountain Beauty
taken from the album "Midnight Guitar" on Regal/EMI (196?)
Los Yaki : Las Estatuas De Marfil
taken from the album "Vol. II" on Pickwick/33 (196?)
Los Blue Caps : Tu Mujer, Yo Yaron & Solo Vivo Por Tu Amor
taken from the album "Cuando Te Miro" on Parnaso (1970)
Imagine the immense awe that must have splintered into the core of the first fuzz guitarist when, upon strumming his coiled strings, he heard not the sweet melodious ring of a clean plucked note, but instead was met with the scream of electrical feedback that will forever voice the raw agitation of youthful rebellion. Did this forgotten string-strummer catch any glimpse at the vast impact of his forever raging bastard child? Was it done on purpose? Did he finally achieve the sound of his burning inner torment after exhaustive hours of experimentation, or was it an accidental buzz that stabbed him in the back when he innocently left the volume knob turned up too high? Whatever the case may be, today I'd like to celebrate a few obscure shrapnel nuggets that were flung in different directions across our planet in the aftermath of this explosive auditory revelation.
Mikis Theodorakis is perhaps one of the all-time greatest and most widely recognized Greek composers. I addition to scoring virtually all the major Greek theater productions of the 60's, he achieved international renown for his film score to "Zorba The Greek" and then, "Z" (looks like he also did Serpico, which is such a badass film). Mikis has always had a serious lean to the left, and for this he was imprisoned and then exiled (before making Z). Included on the soundtrack (I still haven't seen the film, but it looks like a winner) are several bootleg-sounding recordings of just Mikis singing and playing piano "in secret circumstances" (according to the liner notes). A true rebel indeed, and this short little fuzz bomb stands as proof.
Sum Sum is a mystery to me, but I really dig this record she made. Found it in a bargain bin recently and have put it on whenever I felt the need for a bit of Austin Power groovy-kitch.
Los Yaki are also pretty far off my radar, but they appear to be from Mexico. This album features them covering "Yellow Submarine", "Good Love", "secret Agent Man", & "Sunny" (which they turned into "Sonia") among others. The whole album isn't the best listen, but I'll ride for "Estatuas" any day. Hand claps, screechy vocals, B3 organ, and yes… gritty guitar full of fuzz.
Los Blue Caps (not to be confused with Renato E Seus Blue Caps) are another Mexican garage group that I know nil about. But this record is chock-full of pounding drums (yes breaks) and fuzz, fuzz, fuzzzzz. The vocals are a bit hit or miss (lil more on the miss side) but this is the birth of punk we're talking about, so just roll with it.
*Last note: it happens to be my birthday today, so if anyone feels like sending a record my way (hint hint), hit me up with an e-mail. hehe.