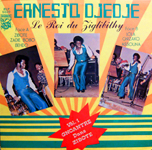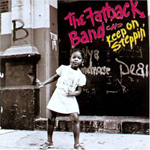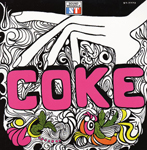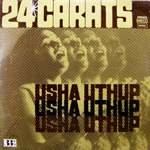 Ernesto Djedje : Zadie Bobo & Zibote
taken from the album "Le Roi Du Ziglibithy" on Badmos (1977)
The Fatback Band : Wicki Wacky
taken from the album "Keep On Steppin'" on Event (1974)
Coke: Na Na & Te Amos Mas
taken from their self-titled album on Sound Triangle (1972)
Usha Uthup : Chhupke Kaun Aya
taken from the album "24 Carats" on Inreco (1981)
Captain Planet here, from Captain's Crate. As O-Dub mentioned, we're trying out some cross-posting techniques to help increase the music flow for your listening pleasure. Today I'm initiating the cossover with a somewhat random assortment of funky music from around the globe. For those that have never seen my own blog, take a peek to get an idea of what we're all about. The "we" i refer to is myself + my younger and scruffier brother, Murphy's Law. Funky and soulful music, past and present, from wherever in the world it may have been born. Must there always be cohesion? Order? Reason? I think not. Especially when you're dealing with something as intangible as music. There's free mixes to download in the "Loose Tape" section as well (although I really should update that with some fresh ones).
Starting off with a record that I've loved for years now- ERNESTO! Why I hadn't taken the time to digitize this earlier is a damn good question. I've been sneaking "Zadie Bobo" into DJ sets since '02 when I first discovered this gem, always to a positive crowd response. In the Ivory Coast, where Djedje made his name, "Zibote" was the bigger hit, and can still be found popping up on compilations of today's Ivoirian music. "The King of Ziglibithy", need I say more?
*One note of warning for fans of Ernesto: DON'T BUY THIS CD VERSION OF HIS ALBUM. I made this mistake, only to realize that the CD is a bootleg recorded off a record being played at the WRONG SPEED! So, unless you want Ernesto chopped and screwed, steer clear.
The Fatback Band need little introduction for fans of funk, but I've been needing to put this classic bump on repeat for a while now and it's so much easier to do that in MP3 format. This is one of those instances where a simple bass groove is enough for me.
Recently got my hands on this semi-rarity from Florida's Coke (later re-named "Opus"). Don't know anything about the group, but I'm feeling the record a lot. The album has a nice cover version of the early boogaloo hit "Bang Bang" (Joe Cuba? or was it Pete Rodriguez?) as well as some ballads and several more dirty, dirty drumbreaks. The LP I have from them as "Opus" is nice too, but "Na Na" is hard to top. Looks like you can cop it on CD too.
Finally, a real monster for you, the legendary HINDI version of "Don't Stop Til You Get Enough". Of course the production quality isn't going to be quite as tight, but considering the sound quality of your average bollywood record, I'd say the uncredited studio musicians (Bappi Lahiri?) on this one are doing a pretty good job. Usha was one of the biggest Indian soundtrack singers in the 70's and 80's – Shalimar, Shaan, & Disco Dancer, to name a few, all feature her silky vocal stylings. I always get a kick out of playing this one and then watching the initial look of bewilderment spread. "Chhupke" ranks right up there alongside Arzu's "Amor" in the world's most-precisely-covered-in-another-language category. Well done Usha.
Hope you all enjoy the latest gumbo funk offering. And cheers to any new readers just finding out about the crate now through Soul-Sides! Stay tuned for more, as always.