Fruko Y Sus Tesos: Salsa Na Ma
From El Violento (Discos Fuentes, 1973).
Wganda Kenya:Tifit Hayed
From Africa 5000 (Discos Fuentes, 197?)
Both available on: Colombia: The Golden Age of Discos Fuentes. The Powerhouse of Colombian Music 1960-1976.
Finally back in L.A. after a nice 10 day trip up in the Bay. One of the folks I wasn't expecting to run into up there was my man Beto, aka Roberto Ernesto Gyemant. For those not familiar with him, he's turning out to be one of the most accomplished young Latin music scholars I've seen on the scene. He was responsible for researching the liner notes for that excellent Panama comp I wrote about for Soul-Sides.com and NPR. More recently, Beto was behind the liners for the latest Latin music anthology from the Soundways folks: Colombia: The Golden Age of Disco Fuentes.
I've really ramped up my interest in Latin music the last few months and this new comp couldn't have arrived at a better time. I was aware that there was a big Latin scene in Peru thanks to my earlier discovery of Enrique Lynch but I didn't realize, until now, that Colombia's Latin scene, especially around salsa, was massive. Beto's liners help shed light on the birth and evolution of that scene, focusing on Discos Fuentes, which seems to have filled in the role in Colombia that a label like Fania or Tico held in the U.S. Latin scene. Informative and engaging – especially with all the label scans and photos – liner notes like this should push other labels to match or exceed that bar.
Let me put this simpler: anything Beto cosigns on? Pay attention to that. On to the music.
Of the various songs off Colombia, the ones that grabbed me the most were by Fruko y sus Tesos. I was first introduced to Fruko by DJ Murphy's Law from Captain's Crates who dropped a cut on our Mandrake night a few months back. Fruko Y Sus Tesos translates into "Fruko and the Tough Guys" and are described by Beto as comparable to the Colombian equivalent of New York's Willie Colon in terms of projecting this kind of bad boy image except that while Colon did it with a sense of mafioso flair, Fruko looked like he was straight thuggin' it out. Compare: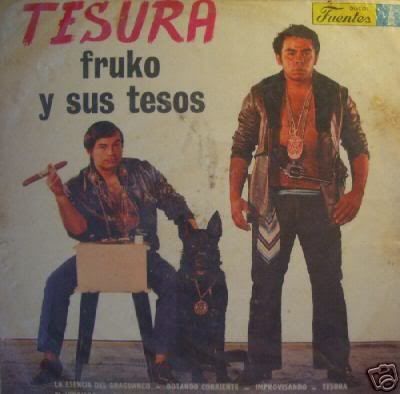 (Fruko is the guy standing on the right side of the Tesura, wearing revolver bling).


Saying – Colon is slicked out but Fruko looks like he could kill you with a stare. (I love that Colon cover to death though).
In any case though, both men shared a real talent for salsa tunes and to me, Fruko's "Salsa Na Ma" is my favorite track off the comp. For starters, it just opens so dramatically – not what you'd expect from a typical salsa song; it's far more jazz. But then the piano riff kicks in, then the percussion, and the salsa groove just kicks off. I just got a copy of El Violento (big up, Justin T!) and can't wait to drop this and see what happens.
I was debating what to flip for the second cut and I was tempted to roll with "Cumbiamba" by El Sexteto Miramar (great slow cumbia/mambo) but I wanted something that would showcase some of the musical diversity of the comp and that meant going with the Afro-funk groove of "Tifit Hayed" by Wganda Kenya (which features Fruko on bass). Not sure what year this is (yo Beto, let us know!) but it sounds more on the mid-70s tip with its seemingly disco-influenced percussion and synthesizers. Bump bump.
---
By the way, I had the chance to listen to the new Sharon Jones and the Dap-Kings album, 100 Days, 100 Nights. Can't post tunes yet (but once I get the greenlight, you know how we do) but *whistle* it's good. Really good. October can't come soon enough.