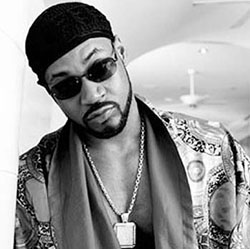 Ghostface Killah: Be Easy
From Fish Scale (Def Jam, 2005)
The Sylvers: Stay Away From Me
From Sylvers II (Pride/MGM, 1973)
Rhymefest: Brand New
From Blue Collar Poppin' (J, 2005)
Sharon Jones and the Dap-Kings: Pick It Up, Lay It In the Cut
From Dap-Dippin' With… (Daptone, 2002)
I'm hardly the first to put this up but bottomline: this Ghostface track is pretty hot, no? Pete Rock produced it, flipping the Sylvers track. I wish he let the sample play more instead of only at the beginning but we're not going to be too picky here. Speaking of the sample…I wrote about this Sylvers album before but the short reminder is this: it's fuckin' awesome. One of my top 5 soul albums of all time.
Rhymefest, aka the dude who wrote most of "Jesus Walks," finally gets some time to shine with his new 12″ though you might be confused since Kanye hits the track first. Here's the thing: the two share some flow similarities – should we assume Rhymefest has been ghostin' for Kanye for a minute? Or maybe it's a Chi thing. This said, I'm feeling this fonky track but I'm really blown away by the lyricism by either artist.
As for that track, apparently even the Daptones had no idea Kanye looped up one of their tracks from Sharon Jones' debut album until someone pointed it out to them. Uh oh – I expect 'Ye will be getting a ring ring from someone's copyright representation soon. It's all good – dude can afford it. (Oh yeah, and this Sharon Jones LP kicks ass, especially the cover of Janet Jackson's "What Have You Done For Me Lately?" Rock with their rhythm nation).