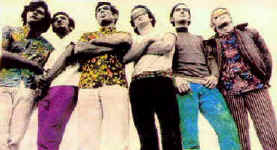 Traffic Sound: Meshkalina b/w Simple
From 7″ (MaG, 1967)
A recent listener posted in the comments section, "More Hip Hop, more soul and funk, more jazz and while we're at it, I'm really curious to know what O has hidden inside his rock closet!" Well, here's one…just got this in from Peru in fact; a nice 7″ from legendary Peruvian psych rockers Traffic Sound.
I've been on a Peruvian kick lately actually, having found a few dealers down there who've been feeding my habit. However, right now, all I know about the Peruvian music scene is that it was 1) huge, especially relative to other South American countries 2) had a sprawling psychedelic rock sub-scene, 3) produced an excellent bounty of Latin dance records, 4) will set you back a pretty penny if you're not careful.
What I'd love to know – if anyone out there can contribute this knowledge – is why Peru and not…say…Chile? Or Venezula? Or Columbia? Not like these countries had no music scene; I am certain they did but from my amateur perspective, it doesn't seem as large or influential. Someone care to break this down?
In any case, this 45 comes from one of the biggest names in Peru's psych rock registry: Traffic Sound. Here's an excellent bio of the group from which I gleamed the following: Traffic Sound began as the group Los Hang Ten's – a bunch of high schoolers putting together a garage band basically. They became Traffic Sound around 1968 which is when they were signed to the Peruvian imprint MaG, on which they'd put out 4 albums, all big pieces in the psych collecting circles.
"Meshkalina" (you can figure out the reference, right?) comes off of their 2nd album, Virgin, at a time where the group is starting to move away from just doing covers of American and British hits and are developing their own sound. I like how gritty and lo-fi this is, but damn funky too. The flipside shows off some of the group's more American/British pop sensibilities with a sweet ballad, "Simple." Loving this stuff – definitely fits my "sublime-only" policies.