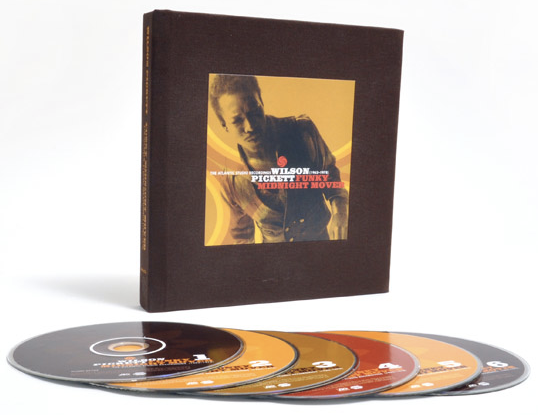 I was meeting with Rhino's Mason Williams today and he was gracious enough to donate a copy of the brand spanking new Wilson Pickett, 6 CD boxset, Funky Midnight Mover, The Studio Records, the most comprehensive anthology of Pickett's Atlantic recordings to date. This doesn't even come out for another week or so. Here's what it comes with:
1st comprehensive compilation of Pickett's Atlantic material
Includes all originally issued recordings for the label, early pre-Atlantic sides, his 1978 album for the Atlantic-distributed Big Tree imprint plus a CD of rare and previously unreleased recordings
Elaborate 92-page, linen-wrapped book with rare and unseen photos
154 tracks
I'm holding it in my hand and it is gorgeous (as is all Rhino Handmade material).
I'm going to auction this as part of the Heatrocks for Haiti campaign that I've been trying to get people to be aware of.
How it works is: you bid on this boxset in the comments. Highest price at the end of the bidding (Sunday night) wins. You donate to a charity of my choosing (most likely either UNICEF or Doctors Without Borders) and put down my email for confirmation (that way, I know you actually donated) and after confirmation, I mail you the boxset. Voila!
Also, as a reminder, I have three other items up for auction:
1) The Dereliks: A Turn of the Wheel Is Worth More Than a Record Deal EP
2) Blackalicious: Melodica 2xEP
3) The Wire Season 4 promo poster.
While the auctions are being hosted on Soulstrut, if you don't feel like signing up to be a member, you can send your bids to me or post them in the comments.
Bidding on the Pickett boxset begins at $100 (which is what Rhino Handmade is charging for it) and moves up from there. Remember: I'm hoping most of you would have planned to donate anyway. This way, you donate AND get a killer boxset in return.
(Note: If none of my readers bid on this, I will be very very very disappointed in you).