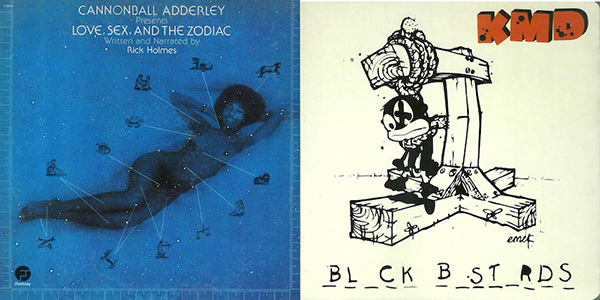 Cannonball Adderley: Virgo: For Pam (Love, Sex, and the Zodiac, Fantasy, 1974)
KMD: Black Bastards! (Black Bastards, Readyrock, 2000)
The sad fate of KMD's Black Bastards is a tale well-told and for those who want the story straight from Zev Luv X/MF Doom's mouth, then check out the expansive excerpt from my guy Brian Coleman's Check the Technique 2. The hyper-condensed version for those wholly unaware is that KMD's 1994 sophomore LP was scuttled by 1) a pair of music journalists offended by the group's use of Sambo imagery in their artwork and 2) a record label (Elektra) looking to avoid controversy. And oh yeah, 3) KMD's Subroc (Doom's brother) was killed in a traffic accident right before production ended. (Side note: I wonder what would have happened if social media had been around then; it's hard to imagine the album being tossed out so quickly if there had been more public involvement/scrutiny).
Back in '94, Elektra's decision to drop the album lead bootleggers in Europe to float out their own eight-song version of Black Bastards later that year. The fidelity was terrible — I've assumed it was "mastered" off a cassette promo or the like — but for fans like me, putting up with shitty sound seemed like a fair barter to have access to some of the songs The Man didn't want us to hear, including what would become one of my favorite KMD tracks of all time, "Black Bastards!"
Originally entitled "Black Bastards and Bitches", "Black Bastards!" is a Zev Luv X showcase, with him handling both verses (that link to Coleman's excerpt has the late Doom breaking down his intentions behind his lyrics, including another shot at the wackness that was Parker Lewis) and presumably, both he and Subroc collaborated on the production. The song opens with the stark intonations of poet Gylan Kainyelling, "I ain't black, I ain't white" over a slick bit of string bass work. Much of the album's sound is rooted in prominent basslines — this was produced during '93 after all — and the one for "Black Bastards!" is first amongst equals for me. Whereas other examples from the LP are more staccato in their affect, the bassline here is more nimble and fluid; there's a subtlety to how it flows as well as this light melancholy in its feel that gets me every time. If "Black Bastards!" had never done more than just run that bass, it'd be a perfectly lovely track on its own. Thankfully, KMD went more nose-to-tail with their sampling and we're left richer for that decision.
Outside of Kain's voice and the Five Stairsteps' drums, the bulk of "Black Bastards!" plumbs the best parts of "Virgo: For Pam," one of the 12 songs featured on Cannonball Adderley's Love, Sex, And The Zodiac, released in 1974. This album has a curious history: it was originally recorded in 1970 and was the first time Adderley collaborated with L.A. radio personality Rick Holmes — who does all the recitations on the album with this gorgeous baritone — but by the time the LP came out, it would now be the third such partnership between the two and the second time they had worked on a zodiac-themed jazz album. The first released (though second recorded) was 1972's Soul Zodiac, "presented by" Cannonball, with brother Nat Adderley claiming artist credit. The two albums even feature many of the same personnel though confusingly, Love, Sex, and the Zodiac is considerably more soulful/funky than the free jazz excursions on Soul Zodiac. EIther way, both albums have the same conceit: create a song devoted to each of the 12 zodiac signs and have Holmes recite some hippie-dippy-groovy astrological insights about how each sign approaches love and/or sex. Jazz affianandos all but abandon both LPs, especially Love, Sex, but as an exercise in funky jazz, you could do far worse. (As a Leo myself, I dig how Adderley basically interpolated the bassline from "Get Up, Stand Up" for "Leo: Rosebud" off this LP).
But yeah, "Virgo: For Pam." Written by pianist Hal Galper, the two dominant musical features are Walter Booker's aforementioned bass and the light, bossa-like melody carried on what I assume is both Nat Adderley's cornet and his brother's alto sax. From my loose count, the melody is 14 bars total, broken into two halves. The first finds the horns steadily climbing the scale across 10 bars, building a long crescendo (including in volume) that peaks with a four-note horn transition, after which the melody has a gentle four-bar decrescendo that's an inversion of the longer first half.
Adderley and company bring this back twice, once as an instrumental, again with Holmes's narration, and KMD does the same here, with each of Zev's verses featuring the same clever chop of that melody. I say "clever" because it's not a straight loop (even though it initially sounds like one). In KMD's case, they work exclusively with the "first half" crescendo part of the sample, so there's this ever-climbing tension you feel throughout. However, rather than taking 10 bars to reach the peak, KMD extend it into a standard 16 and then we hear that squawking four-note transition before repeating four bars from the first-half melody. This isn't like some god-tier level set of transformations but just because it's not the most aggressive chop doesn't mean KMD is putting a lot of smart thought into their reworking of Adderley's original to fit Zev's verse structure. In both songs, there's this wonderful progression of ever-building, slow-burning tension which works perfectly with Zev's overall 24 bar verse structure (the 16 bars of the melody are bookended by four bar segments of just the bassline and drums). It's so nice that both Adderley and KMD brought it back twice. The funny thing is that what KMD do here sounds so "right" that whenever I go back and listen to "Virgo," I'm always forgetting when that four-note transition happens because where it lands on Adderley's song isn't where it appears on KMD's.

Side note: my favorite line on "Black Bastards!" is also a sampling of sorts: it's when Zev borrows from Just Ice's "Cold Gettin' Dumb" when he rhymes, near the end of his second verse: "It's like that, never the wack, and actual fact. It's like this, sweet as a kiss, that's if you got the knack."
(Originally written for the Soul Sides Stray newsletter)