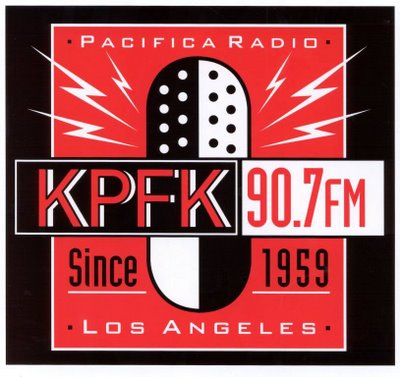 Michael Barnes, who hosts the new Melting Pot show on KPFK here in Los Angeles, was gracious enough to invite me to program a monthly, 20 minute segment on his show that we're calling "Side Dishes" (yeah, I used the same name for my now defunct Vibe.com column but hey, it's defunct!). The theme of the segment is on new releases (though not necessarily "new" music") and it'll reflect the kind of tunes you'll always find here on Soul Sides.
Side Dishes airs live, every 3rd Sunday, and then we'll post it up as a podcast after on both my and Barnes' site. For this inaugural segment, I went with these tracks:

The Funkees: Breakthrough
Lijadu Sisters: Life's Gone Down Low
From The World Ends: Afro Rock & Psychedelia in 1970s Nigeria (Forthcoming on Soundway, 2010)
Cumbia Siglo XX: Naga Pedale
Wganda Kenya: Pim Pom
Both from Palenque, Palenque: Champeta Criolla and Afro Roots in coastal Colombia 1975–1985 (CD/LP) (Soundway, 2010)
Los Destellos: Guajira Sicodelica
From Cumbia Beat Vol 1 – Experimental Guitar-Driven Tropical Sounds From Peru 1966 to 1976 (VampiSoul, 2010)
[podcast]http://latinboogaloo.com/sounds/sidedishes/1-7.18.10.mp3[/podcast]
You can also here this past week's Melting Pot in its entirety here.