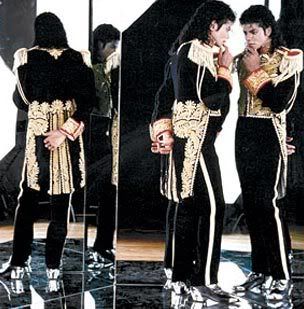 This is (probably) going to be the last post I'm going to do on M-J-5 for the time being, bringing to a close a rather crazy 5 day period where it was all MJ, all the time.
1) I just recorded this in the morning: The Soul Sides Kitchen-Cast w/ Ann Powers. Besides being a good friend, Ann also happens to be chief pop critic at the L.A. Times and I invited her over to talk about MJ's musical and cultural legacy in my kitchen (for the record, my green room provides Orangina and mixed nuts).
Here's the podcast in streaming form or you can download it here.

2) Wil and I recorded our Boogaloo[la] set from last Thursday which includes a 2 hour opening set that includes a good deal of lesser known J5 and MJ covers/remixes/songs. Then there was our 2 hour MJ5 set which slammed down all the "best ofs" into a party-smashing mix. You can download both:
Tribute set
(Just remember this was recorded live!)

P.S.: I've been trying to figure out why I've been so compelled to stay on story over the last five days and it's certainly not out of the tabloid fascination that will only grow (and get uglier) in the weeks to come. It's the music, always the music, that keeps drawing me back in and it finally dawned on me this morning that while MJ certainly wasn't the first pop artist I heard in my lifetime, he was so utterly everywhere at my entry into the pop world that everything I love about music, about its emotional power and reach – MJ was a foremost influence. In other words, his music was one of the most important ways through which I learned to love music. And so, in paying tribute to that musical legacy, I'm really just trying to find a way to express an appreciation for a gift that, 30 years after I first shook my tush to "Don't Stop Til You Get Enough," has continued to enrich my life on a daily basis. For that gift, I will remain forever thankful for MJ's music, regardless of what I may think of the man behind them.