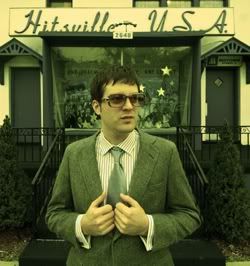 I was at the Univ. of Illinois, Urbana-Champain this past Tuesday and met Invincible, a Detroit rapper/activist whose awareness-raising around gentrification and urban (un)planning highlights one of the most pressing social issues of our era. (Peep out the "Locusts" video included on her Shapeshifters CD).
We shared a flight from Champaign back to Chicago (turbulence-free, thankfully) as she was putting me up on the Detroit hip-hop scene, she asked, "do you know Mayer Hawthorne?" I replied "sure," and the moment seemed apropos since I had just been listening to his new sampler the night before (thanks Eric).
Invincible chuckled affectionately, sharing that the two of them grew up in Ann Arbor, having met through Jewish summer camps, and as we were talking about some of his new songs, she described how "Mayer Hawthorne" (the artist, not the man) was a persona developed in the wake of the unexpected success of his first 7″, "Just Ain't Gonna Work Out." We both marveled at how one song can help shape a career, or least the start of one.
(By the way, there's a new video for "Just Ain't" that prominently features the heart-shaped 7″ that it was released on).
The sampler I've heard has two songs from the single – "Just Ain't Gonna Work Out" and "When I Said Goodbye" – plus a remix of "Just Ain't" and two new songs: "Maybe So, Maybe No" and "I Wish It Would Rain."
That first new song had caught my attention months ago when Mayer first shared it with me; "Maybe So, Maybe No" has become one of my favorite songs ever in the last two years since I was first put up on it by my man Hua. Originally recorded by Detroit's New Holidays and enough of a success that Westbound picked it up from the local Soulhawk imprint, "Maybe So, Maybe No" exemplifies the kind of composition that is so incredibly fragile that it's a miracle it even works at all yet the very fact that it does come together (what Hua likes to call a "lightning in a bottle song") is what makes it so extraordinary.
New Holidays: Maybe So, Maybe No
From 7″ (Soulhawk, 1969)
I'm tempted to enumerate all the parts of this song that shouldn't work but it's easier for you to just listen to it, soak in all the small touches that balance precariously together here, all the unexpected layers of music and vocals and how, despite it teetering on the edge of collapse, comes together beautifully.
It's those qualities that make this song pretty much impossible to cover – you can't catch lightning in a bottle twice – and Mayer, as admirable an effort he makes, isn't immune to this either. His isn't a bad cover by any means – it's just not the OG and in this case, it's hard to settle for anything less.[1] I'll let you decide:
However, another song on Mayer's sampler really caught my ear: "I Wish It Would Rain" (this is apparently the B-side to the next single).
This is not a cover of the Temptations' song by the same name though, lyrically, the two do share a resemblance (namely around the idea of raindrops masking tears). But that similarity aside, this really sounds like a "Mayer Hawthorne song" which I suppose is strange to say given that he's only had two songs before this. But the aesthetic he created on "Just Ain't" is evident here – the purity and simplicity of the arrangement, the plaintive tone of his falsetto, the way in which the song invokes a mood more than just a style. (The use of back-up singing on this track is what really makes this work as well as it does. Brilliant choice).
Philaflava has yet another song (not on this sampler) available to peep: "Green Eyed Love." I first heard it when Mayer came to DJ at Boogaloo[LA] in January and I thought it sounded great then and I still do now.
[1] I will make one exception for the "you can't cover this song" rule but it's for purely selfish and personal reasons. "Maybe So, Maybe No" also happens to be one of my daughter's favorite songs; one she learned at age 3 and still continues to spontaneously break out into. Sure, she only knows the chorus and sure, she kind of gets it wrong (it should be "could it be that your love, is meant for me?" instead of "could it be that my love, is meant for me?") but I see it as an act of self-affirmation. Or something like that.
Ms. Mizang: Maybe So, Maybe No (acapella)
From: Back of the car, driving home from daycare, 2009