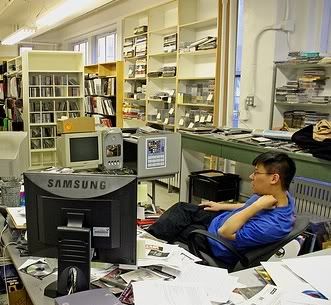 Ed Wong at Sandbox Automatic is a huge reason why Soul Sides exists: back in the day, I need a place to park my websites and he graciously offered me his server and extra bandwidth and from that, Soul Sides was able to become a reality. So I am very, very grateful to Ed for that largesse and I recently sat down with him for a chat about the state of hip-hop retail, the death of vinyl (or perhaps not) and the fact that he's about to auction off a ton of deadstock rap records. All in all, they'll be 1000 put up on eBay (you can see the lists here). There could be some nice gems in the mix – Ed's blessed me over the years, including tracking down stuff like this and this. At the very least, those still needing to finish off their Rawkus collection will no doubt find the records you need.
Hint: if I were you, I'd be looking at this, this and this, for starters. They don't mention this but I'm pretty sure that last one (the Jurassic 5 EP) is the version with the full version of "Concrete Schoolyard" that includes Akil's verse (it had to be chopped from the Interscope version of the EP b/c of sample clearance). Rare, bro.
Here's my informal podcast with Ed where we talk about the threat to vinyl, the challenges in hip-hop retail and how the rap industry only has itself to blame for poor sales (he doesn't blame Souljah Boy though).