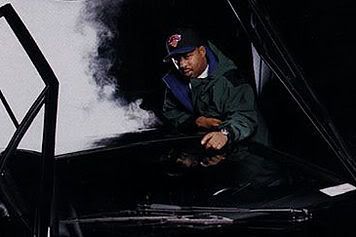 Grand Puba feat. Sadat X: I Like It (Blend Mix)
Original version from 2000 (Elektra, 1995)
Buckwild Remix from 12″ (Elektra, 1995). Also on Diggin' In the Crates: Rare Studio Masters.
DeBarge: I Like It
From All This Love (Gordy, 1982). Also on Ultimate Collection.
Henry Mancini: Here's Looking At You, Kid
From Return of the Pink Panther (RCA 1975)
Strangely, I have never posted up any Grand Puba songs on Soul Sides despite the fact that some of my favorite songs of the '90s bore his name (namely "I Like It" and the insanely dope "360 Degrees" remix) but I was listening to DeBarge's "I Like It" the other day and realized it was time.Ok, so I actually have done a Puba post before but I was listening to DeBarge's "I Like It" and though a revisit was in order.
Puba's "I Like It" saved my life. Sort of. This was back in the mid-90s and I was driving 580 through the Bay Area, tired as hell and nodding off on the freeway. Not good. I decided to flip to the radio and somewhere in the mix, some DJ threw this on and even from the opening cymbal tap, I knew what was coming and I was suddenly invigorated and no longer drowsy. True tales.
He's made far harder songs but I love "I Like It" precisely for its light touch. For goodness sake – it's a rap song built off of a Cal Tjader cover of the Association's "Never My Love." That's like soft-batch twice over (though I love the original "Never My Love") yet the song clicks the same way, say, the best Tribe Called Quest songs did. It's the small things that work best here: the snippet of "and you say New York City," that little "bah baaadah" cry, and of course, the DeBarge sample of "oooooooh, and I like it." Yeah, we do it.
The remix, by Buckwild, is also compelling, not the least of which is because this song reunited Sadat X and Puba together, squashing rumors that the former Brand Nubian bandmates had beef with one another ("the Grand Puba is a great friend of mine" isn't the slickest line but it is direct). It's also classic Buckwild for that era – dude flipped vibes like Pete Rock flipped horns. In this case, Buckwild took a surprisingly mellow and funky cut from Henry Mancini's Return of the Pink Panther soundtrack and puts it to great use. "Here's Looking At You, Kid" is an aberration on that soundtrack – nothing else remotes sounds like it but I'm happy that it's the odd track out given how nice a listen it is.
I did a quick and dirty edit of the original Puba song with the remix (I used to do it a bit more artfully in the mix but it was simpler here to just cut in and out). Both songs are readily "available" in their original forms in case you absolutely need them that way. Otherwise, enjoy this trio.