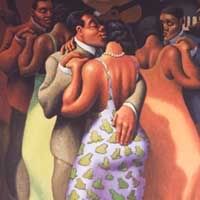 I was interviewing Mayer Hawthorne today for an upcoming piece that will run around whenever his album drops (sounds like August or Sept. at the latest) and he was remarking how surprised he was that "young kids" (meaning teenagers) have been into his songs and I suggested that it was the "slow jam factor." For all the stereotypes of teens liking angry, rebellious music, there's also the contingent that likes the bump n' grind groovers they can get their red light dance on to or the kind of sweet, lowrider ballads you hear them dedicating to one another on Art Laboe's Sunday Special.
(Note: slow jam fans – which is to say…everyone – will dig Mayer's upcoming LP. Some killer stuff on there, as good if not better than what's already in circulation).
Anyways, as anyone who's ever been to Boogaloo[la] knows (and thanks to everyone who turned out last night), we always try to end the evening on the slow jam tip and I decided to pull out three cuts that have been patiently waiting in queue to get some late night spin:
Steve Parks: Still Thinking of You
From 7″ (Reynolds, 197?)
Patti and the Lovelites: Love So Strong
From 7″ (Love Lite, 1973)
Young Billy Cole: Sitting In the Park
From 7″ (Audio Connection, 1976)
I've posted about Steve Parks before but that was from slightly later in his career than this 7″ above. It's a classic amongst Bay Area record heads, part of the small but excellent catalog on Reynolds Records (which is still waiting for a proper anthologizing at some point) and is an unforgettable piece of heartbreakingly melancholy song craft.
"Love So Strong" sounds like something Alicia Keys has spent time studying, doesn't it? (Note: this is a compliment). This Chicago-based group is one of those who skated with limited success for a number of years, ending up on nearly half a dozen labels, including Uni and Cotillion though this single was on what I assume was their own imprint, Love Lite. I am so feeling the whole style of this track, just how laid back and damn soulful it is, especially with the background singing "whoo-hoooing".
Lastly, what's a slow jam without a nod to Billy Stewart's "Sitting In the Park," this cover done rocksteady-style by Young Billy Cole. I don't know full story here but Cole's real name is Winston Francis and he changed it to Billy Cole to record a 1975 song, "Extra Careful" and apparently, the name stuck enough for Cole to continue recording under that name. The version of "Sitting In the Park" here follows closely to the original and you can hear how natural a conversion it is to take Stewart's original and give it a reggae makeover.
(Slow) jam on.