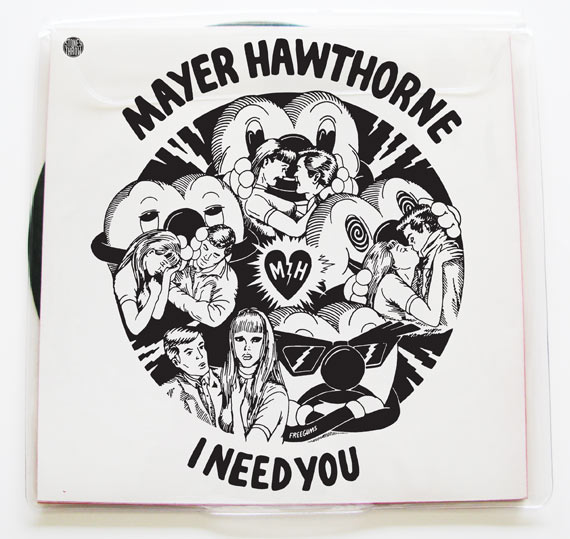 First off, apologies for taking over a week off in between posts. Busy busy busy.
Anyways, was just looking over the fall/winter tour schedule for Mayer Hawthorne and realized I forgot to post about some of his releases this past year. Given that he's "in between albums," his output has still been surprisingly better than you might expect. In chrono order, here's three that have stood out to me:
Mayer Hawthorne: Thin Moon
From 7″ (Stonesthrow/Wax Poetics, 2010)
This James Pants' cover appeared as a spring issue 7″ insert for Wax Poetics and does a nice job of adapting Pants' electro-tinged original into a slow jam style (dare I say, I much prefer this to the original). The acoustic piano = killer.
Then, this past summer, Stonesthrow released this on 12″
Mayer Hawthorne: I Need You
From 12″ (Stonesthrow, 2010)
Produced by Nottz, this is a lovely interpretation of an Otis Leavill original which rides that very fine line between being loyal enough to the original (esp. the vocals) but not so much to sound like a carbon copy. I've been playing this heavy in the car and I think my wife and I have absent-mindedly been crooning "I need yooooouuuu" at random moments as a result.
Mayer returns the favor to Nottz on the producer/rapper's new album, You Need This Music.
Nottz feat. Mayer Hawthorne: I Still Love You
From You Need This Music (Traffic, 2010)
It's not exactly a remake of "I Used to Love H.E.R." but clearly is inspired by it. Beautiful little track by Nottz and Mayer adds his vocals for the hook. Easily one of my favorite songs off the new album.