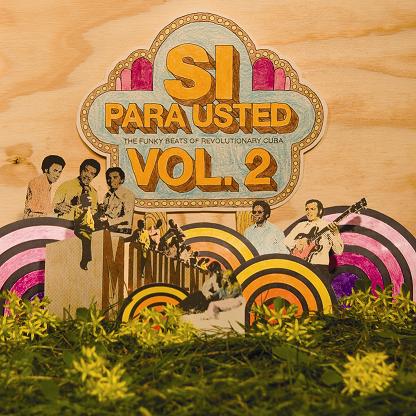 Qrquesta Cubana De Música Moderna: Vehicle
Los Papines: Para Qué Niegas
Both from Si Para Usted Vol. 2: The Funky Beats of Revolutionary Cuba (Waxing Deep, 2009)
Can it be already two years since the first volume of this series appeared? The folks at Waxing Deep are at it again, mining the rich – but under-appreciated – catalog of Cuban records from the 1960s and '70s that flourished despite the country's isolation from the U.S.
It's always stunning to consider how pervasive and influential Cuban music has been on America, all despite the political and economic distance that's been enforced between the two countries and the Si Para Usted series has excelled in showcasing how rich a dialogue was happening despite the official blockades.
In picking two songs to highlight off the excellent Vol. 2, it was hard to pass up Qrquesta Cubana De Música Moderna's "Vehicle" – maybe it's those opening horns, maybe it's because I've heard the Ides of March's original so many times but you have to admit, it is a damn catchy tune and this Orquesta does a bang up job of keeping its vivacious funkiness front and center.
With the Los Papines, I wanted to take things in a completely different direction, with a groove that was subtler but no less impressive. I love the layers of sound going on here, from the Brazilian-esque locals popping up in the background, to the smooth main vocals melting in, to the soft brushes of Frank Emilioano's keys and Cachaíto's bass. It's a collision that probably shouldn't work but the more you listen, the deeper you fall in.
Bonus: Juan Formell and Los Van Van: Llegue, Llegue / Guararey de Pastoria
From Juan Formell and Los Van Van (Areito, 1974)
Jesús "Chucho" Valdés y Su Combo: Descarga de Kike/Quique
From Jazz Nocturno Jazz (Palma, 196?)
Thank god for this comp – it finally got me to write about a few personal favorites from my very small collection of Cuban records, beginning with one of the biggest bands to come out of the island – Juan Formell and Los Van Van.
I first "heard" "Llegue, Llegue" in the form of Cut Chemist's "Intro" for The Litmus TestJurassic 5's "This Is" – either Cut Chemist or Numark loops the front part of this song and when I came across this Los Van Van/Juan Formell album years later, I finally knew where they had gotten it from. You gotta love how hypnotic this groove is, especially as it patiently unfurls and builds over its 9 minutes until it transforms into a more conventional Latin dance track. The use of strings in here is just incredible; totally unexpected but most welcome.
As for the descarga I also included – funky, no. Jazzy? Sí! This comes from the great Cuban pianist Chucho Valdés for a lovely Latin jazz LP he recorded for the Palma imprint. I'm assuming this particular descarga is dedicated to one of Valdés' collaborators named Quique (it's misprinted – though phonetically consistent – as "Kike" on the cover) but I can't tell if that's supposed to be Enrique Plá or another musician nicknamed "Quique." Great, great dance number though.