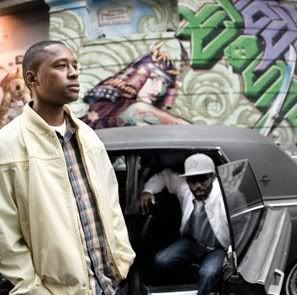 Myron and E w/ the Soul Investigators: I Can't Let You Get Away
From 7″ single (Timmion, 2008)
Myron and E are vocalists from my old hometown of Oakland, CA and they've somehow connected with the Soul Investigators of Finland (yeah, the same ones who back Nicole Willis). The result is their first 7″, an intriguing slice of retro-inspired goodness that highlights the early/mid-60s R&B scene. "Cold Game," the A-side (hear a snippet here) has been getting more blog-play but personally, I really dig the flipside, a striking ballad that balances the Soul Investigators' heavy rhythm section with Myron and E's fragile vocal touches. To be sure, they don't have the strongest voices but there's something about the lo-fi, almost fragile texture of their singing that really works on this song.
I hear the group is working on their first full-length and if the Soul Investigators track record is any indication, this could definitely be one to watch in 2009. By the way, between these guys and LA's Mayer Hawthorne, looks like Cali's building quite the throwback soul scene.