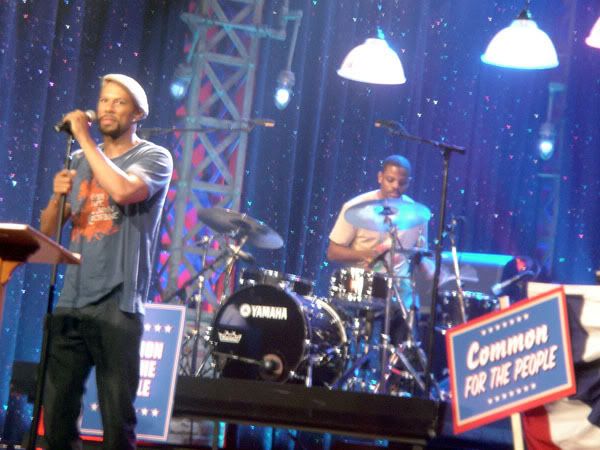 Common: Resurrection (Grooveman Spot Remix)
From Grooveman Spot EP (Subcontact, 2004)
Common: Drivin' Me Wild (snippet)
From Finding Forever (Good/Geffen, 2007)
The New Rotary Connection: Love Has Fallen On Me
From Hey Love (Cadet Concept, 1971)
It occurred to me today that, with one or two exceptions, I've probably interviewed Common the most times of any rap artist (three). This actually has less to do with an aesthetic preference – I've been a fan of his work since his first singles but he's not on my Top 10 – and more to do with his longevity; whatever you may think of Common, you can't knock his hustle. 15 years, 8 7 albums. Especially as a "conscious" rapper, he's far outlasted most of his peers AND mentors and by that fact alone, I've had the opportunity to speak to him about a few albums: Like Water for Chocolate, Be and now, Finding Forever.
I reviewed the album as a lead review for this month's Vibe and the gist of that review is this: it's a very good album. In fact, if you thought Be was an instant classic (I did not though I did like the album), then Finding Forever, in my opinion, is a better song-for-song effort.
My interview with Common was also about the album, though this wasn't a straight-up review, but rather an "On the Record" feature for the LA Times (that should run this Sunday). I was fine with doing the interview as a phoner since it wasn't going to be very long but for whatever reason, they preferred to schedule it in person and given that he was in L.A. today to tape a performance on The Tonight Show, it wasn't a real hassle to motor over to Burbank.
Let me make this following, some what tangential observation: the amount of manpower required to keep the culture industry – as an organizational structure and organism – running is mind-blowing if you think about it. Common's on the Tonight Show to promote his new album. Leno wants him on as a way to attract viewers. But of course, in order to make this "simple" arrangement work, there are dozens, if not hundreds of people scurrying around both men to help everything click. It's the kind of web of relations that Howard Becker calls Art Worlds – basically, behind any "artist" is a complicated network of other players who may not "make art" directly but make the creation and dissemination of art possible. Keep in mind – what I'm saying here is hardly extraordinary but I'm one of those guys who doesn't really try to get all behind-the-scenes even though I enjoy the experience on the rare occasions it happens. Especially when "behind the scenes" involves interviewing Common and then having this happen.
Ok, moving on.
For a Common post, I wanted to tag something old and something new even though, in this case, the Grooveman Spot remix (from Japan) is both old and new. I'm not even sure where I got this from (probably another audioblog that I've since forgotten to credit properly, sorry) but what I like about it is how it basically flips on the musical core of the original – a slick piano loop – and manages to offer an alternate look, or, er, sound that's new yet familiar. Even for a remix that arrived nine years after the original, it still makes the song sound fresh.
"Drivin' Me Wild" is my second favorite song off Finding Forever ("Start the Show" being the most) but it is, in my opinion, the one with the most potential to blow up off the album (it also happens to be the next single). It's just incredibly catchy. When I first heard it, I was wondering where Kanye put this together from, especially the hook which, though sung by the UK's Lily Allen, sounded like it came from somewhere else and when I got the official liners, I realized: ah, it's the New Rotary Connection (which is some what embarrassing for me to learn since I've owned the album for years but it was a song I never paid much attention to). I really like how 'Ye uses the loop here – it's so sublime, especially with how the music and vocals (I'm assuming that soprano is none other than Minnie Riperton) meld harmonically on that chorus from the original and how Kanye uses it to good effect here.
Interestingly, this is one of two Cadet albums that Kanye samples from and I'm wondering if that's because Cadet was a Chicago label and that 'Ye's crates are more likely to be stocked with Chicago records. Could just be a coincidence but I do think about how that Archie Whitewater was another Cadet Concept song that ended up on one of Common's albums. Whatever – just idle speculation.