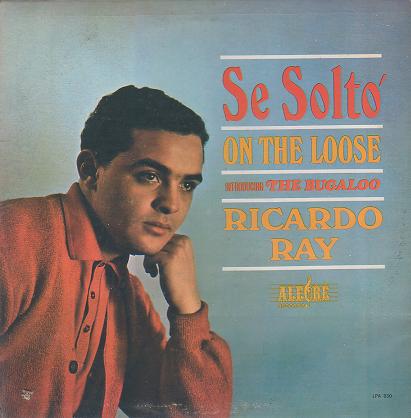 Ricardo Ray: Danzon Bugaloo + Lookie Lookie
From Se Soltó/On the Loose (Alegre, 1966)
It's been a while since I wrote anything about the boogaloo but I've recently been researching it again for a paper I'm presenting in April. In the process of doing that, I realized that I had totally slept on one of the best resources ever written in regards to boogaloo history: Juan Flores' "Cha Cha With a Backbeat" which appears in his 2000 book on Puerto Rican American culture, From Bomba to Hip-Hop. I cannot overstate this: the essay is excellent and is a must-read for anyone with an abiding interest in the history of boogaloo.
What's funny is that, in doing my own research, I ended up simply duplicating the work Flores had already done (just goes to show – it pays to read up on other people's work before embarking on your own sometimes), namely in identifying the "first" boogaloo song as coming off this Ricardo Ray album from 1966.
Technically speaking, this is probably the first song labeled as a boogaloo but that doesn't mean that it's the first boogaloo song in terms of style. As Flores also notes, there's no shortage of antecedents to the boogaloo from the worlds of cha cha and guajiras and other proto-Latin soul styles. However, Ray was the first artist – it seems – to have consciously labeled what he was doing as a new Latin dance/rhythm known as "bugaloo" (interestingly, some people would go on to spell it "bugalu" or "boogaloo" but Ray's contraction of the two seems relatively unique.
What's interesting about "Danzon Bugaloo" is how it doesn't quite conform to the musical "norms" we associate with boogaloo but perhaps that's the "danzon" influence. It may also be the fact that the song is a cover of "Whipped Cream" by Herb Alpert and the Tijuana Brass. You have to admit there is a deep, rich web of connections when a White musician trying to capture the sound of Mexico at the border would get covered by a Nuyorican, fusing Cuban dance with Black R&B lyrics and rhythms.
However, though "Danzon Bugaloo" has its own eccentricities, there's no denying that "Lookie Lookie" lays down what would become a classic template for the boogaloo: a repeating piano muntono riff, English lyrics, an anchored, measured sense of percussion plus an added bonus of having the song swing into a higher tempo mid-way through. It's not the most scintillating boogaloo ever recorded but for the first attempt, it's more than laudable.
Se Soltó, overall, is a great Latin album. I'm a little surprised if only because I didn't find Ray's next album, the better known Jala Jala Boogaloo to be quite as interesting or adventurous as Se Soltó.