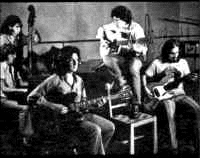 Ben Sidran: Feel Your Groove
From Feel Your Groove (Capitol, 1971)
We All Together: Los Mas Grande Que Existe
From 7″ (MaG, 1974)
I don't know…maybe I'm just getting more soft n' sentimental as I get older but these days, I'm not really as much moved by mega-hype funk tunes or even boombastic hip-hop tracks as I have in the past. These days, I've really been tuning into more mellow fare be it in soul, rock, jazz, etc.
Take this Ben Sidran cut for example, the title track from what I'm assuming is his first album. It's a recent discovery…I've had two of Sidran's Blue Thumb albums from just a few years later but I was never really blown away by either. Some decent funky/rock/jazz fusion tunes but "Feel Your Groove" is, by and far, the best thing I've heard from him. His singing, admittedly, not the greatest but the symphonic elements in the arrangement? Awesome. Pun intended: I'm feeling this groove.
The We All Together comes off a compilation of Peruvian rock I picked up not too long ago. I had a post about these guys a year back and I'm definitely a fan of their sound. Maybe I'm just geeked off the fact that a Peruvian band could nail the Beatles' style so well but seriously, they do the Fab Four better than most British bands I know. Sure, this particular song is in Spanish but you can still hear the influence ring through.