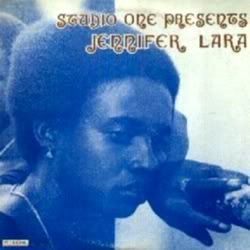 Jennifer Lara: Close To You
Jennifer Lara: Our Love
From Studio One Presents Jennifer Lara (Studio One, 197?)
Sharon Forrester: Please Don't Let Me Be Lonely
Sharon Forrester: Silly Wasn't I
From Sharon (Vulcan, 1973). "Don't Let Me Be Lonely" also on Trojan Seventies.
I'm definitely not that deep of a reggae collector but I do have a yen for good reggae soul songs and that's what drew me to both of these albums. The Lara LP was a bit of an impulse buy – I hadn't even really heard much of it but decided that Studio One + 1970s + female singer = worth a shot. And it turned out to be a pretty good one in my opinion as Lara's bright and light voice on a song like "Close To You" has a dreamy, summery charm to it. What's so striking is that Lara then drops about two or three octaves for "Our Love," getting all sultry and seductive with one of the album's main highlights. She sounds so damn smooth here. From what little I know, Lara was mostly a backing artist though she had a few solo albums of her own. Alas, she also passed away at only 52, back in 2005, from a stroke – surely before her time.
With the Sharon Forrester – straight up, I bought this LP initially to procure one song: her cover of James Taylor's "Don't Let Me Be Lonely Tonight." It's not that I have a big thing for Taylor covers but between Forrester's sugary sweet vocals (which remind me a lot of Linda Lewis) and that rich track courtesy Geoffrey Chung, this song has stuck with me ever since I heard it on the Trojan Seventies boxset. It's a gorgeous treatment. "Silly Wasn't I" isn't quite as magical but it's pretty damn good – very soulful with a nice mid-tempo swing.
Anything I know about Forrester, I learned here. Apparently, she was a teenage talent discovered in Jamaica in the early '70s and, at one point, was voted "Best New Female Reggae Artist" but for such a promising beginning, I can't seem to find any Forrester's output beyond this one album and some of the 7″s that came off it.