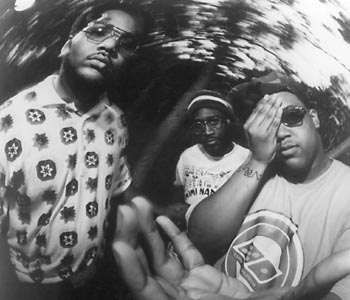 De La Soul: Eye Know (Know It All Mix)
From UK 12″ (Tommy Boy, 1989)
De La Soul: Breakadawn (De La Soul Remix)
From promo 12″ (Tommy Boy, 1993)
First things first – Noz has De La's ultra rare "Double Huey Skit" up on Cocaine Blunts right now. It took me a long, long time to cop that 12″ but strangely, I also managed to find it on the "Say No Go" promo-CD. Cool tune.
I already had these two songs digitized and ready to go before I realized Noz had his own De La rarity up but the more the merrier. My first song is a remix of "Eye Know," a track that I credit with single-handedly seducing me into hip-hop. It's a longer story, I write it about in the intro my the book but sufficed to say, "Eye Know" holds a very special place in my heart. This remix only appeared on UK imports that had two remixes of "Say No Go" and two remixes of "Eye Know." I favor this particular mix because it keeps the original Steely Dan sample and adds on to it, notably with a Vince Guraldi piano melody and Otis Redding's whistling from "Dock of the Bay." This song will always be classic to me.
The second track is the De La Soul remix of "Breakadawn" which appeared on a promo-only 12″ by Tommy Boy featuring three diff. versions of "Breakadawn" plus the Biz collabo "Lovely How I Let My Mind Float" (includ. instrumental). What I find particularly clever about this is that they use the bassline from "Quiet Storm" by Smokey Robinson, the same song where the "Breakadawn" chorus came from.