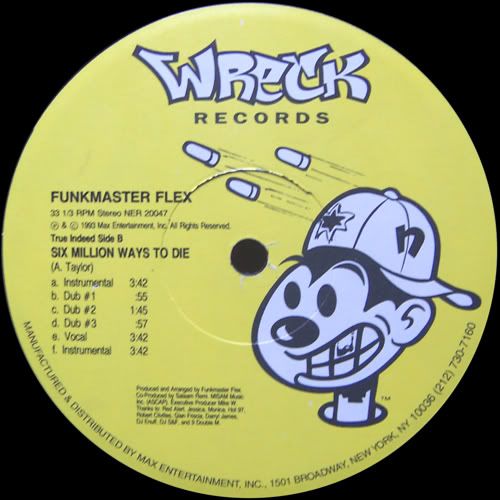 Nubian Crackers feat. Artifacts: Do You Want to Hear It?
From 12″ (Big Beat, 1993). Also on The Greatest Shits, Part 1
Funkmaster Flex feat. 9 Double M and Tragedy: Six Million Ways to Die
From "Sad and Blue" 12″ (Nervous, 1993)
The Masters of Funk feat. 9 Double M: Go Bang
From 12″ (Freeze, 1992)
I've been digitizing a storm lately, trying to bulk up my digital songs options for DJing and I was revisiting some of my favorite singles from back when I first started DJing in 1993. I always remember that era for all the DJ-oriented party-style/breakbeat records – a hip-hop sub-genre that I often associate with folks like 45 King and Kenny Dope pioneering and by the early 1990s, was being dominated by at least two labels that come to mind: AV8 and Wreck (the latter was a subsidiary of Nervous). Most of these featured instrumental tracks based off whatever was banging on the radio charts and but vocally, it was far more likely to find some ragamuffin than rap verses.
However, sometimes, you'd catch one of these with some actual rhyming on it and the two that I always remember from the time were the first two songs above. Even today, I still have no idea who the hell Nubian Crackers were (how Unkut's Robbie E. hasn't interviewed these guys yet, I don't know) but I knew their 12″s were always pretty tasty and when they first dropped "Do You Want To Hear It?" it featured a new duo out of New Jersey called Artifacts. This was before "Wrong Side of the Tracks" jumped off[1] and I don't know how many people paid that close attention to this 12″ (Big Beat didn't put a ton of promotion behind this single if I recall) at the time but I've noticed, since then, it's gathered quite the following. Fun bassline bounce here and it was cool to hear the NCs reuse the same fuzzed out guitar loop from the Politicians' "Free Your Mind" as Professor Griff had flipped.
Funkmaster Flex's "Six Million Ways to Die" was actually a b-side to "Sad and Blue" (which was pleasant enough but otherwise paled in comparison). I don't remember where the whole "six million ways to die" hook first came from – I'm assuming its from dancehall but I don't know who gets credit for first inventing it – but it's a catchy enough refrain. The beat that Flex hooks up after is a monster but here's where things get a bit weird: the song features a guest verse from Tragedy aka Intelligent Hoodlum which is almost word for word the same as he did on "Funk Mode," a song from his Tragedy: Saga of a Hoodlum album that also came out in 1993. That's not a big deal except that "Funk Mode," produced by K-Def, uses the same Lou Donaldson, "It's Your Thing" loop that Flex has on "Six Million Ways to Die" and both of those seemed influenced by Diamond D's use of the same loop on the 12″ version of Brand Nubian's "Punks Jump Up to Get Beat Down". Maybe it's just a coincidence but the timing of "Funk Mode" and "6 Million" always felt weird to me. No matter – the song's hot one way or another and frankly, I always preferred 9 Double M's verses on there to Tragedy's anyway.
And yeah, speaking of that…I always figured Nine would have a bigger rap career than he did. By the time he had changed his name from 9 Double M to just Nine (remember "Whutcha Want"?), he had already graced a handful of singles, "6 Million" being the most prominent and with that straight up grimy voice, he was an easy MC to remember. My absolutely favorite 9 Double M song was off of an earlier single by the "Masters of Funk" (presumably Funkmaster Flex and Todd Terry since both men get credited here). What's confusing to me is that I can't tell who's actually responsible for the track – Funk or Terry – unless both men collaborated. Either way, 9 Double M graces the "Flex's MIx" (which is identical to "Tee's Nine Mix" except the latter has no vocals on it. It's confusing) and besides dissing Das Efx (a popular pastime in those days), he sounds like he's having a ball here, interspersing his gangsta rough posturing with Batman special effects sounds. (Shout out to DJ Ajax, whose Jax Tracks mixtape is where I first heard "Go Bang."
[1] Have you ever heard the demo version of the song? It's a mind-blower considering how awkward the demo version sounds compared to the final version which is certified classic.