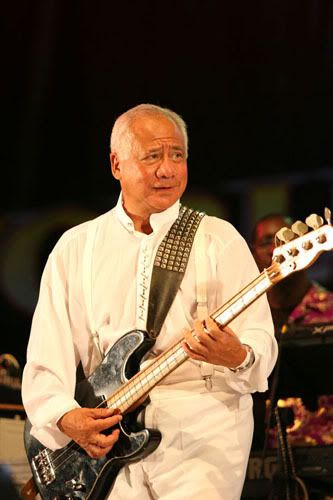 Byron Lee and the Dragonaires: Slow Run
From S/T (JAD, 1968). Also on Very Best of the Reggae Superstars.
Byron Lee and the Dragonaires: My Sweet Lord
From Reggay Splashdown (Dynamic, 1971). Also on Hot Reggae Splashdown.
Byron Lee and the Dragonaires: Live and Let Die
From Reggae Fever (Dynamic, 1972). Also on Trojan Beatles Tribute.
I am really derelict for not getting to this sooner. Byron Lee, one of most prolific artists in Jamaican history, died on November 4th, 2008 (alas, not long after one of his contemporaries, Alton Ellis, also passed away). I should have had a dedication post up weeks ago but it slipped my mind until recently.
Lee's always had a special place in my heart since he was one of the first reggae-artists-not-named-Bob that I ever discovered and his album, Reggae Splashdown was probably one of my early introductions to reggae soul (it doesn't hurt that he was also half-Chinese). It's one reason why I wanted to put Lee's cover of "Express Yourself" on Soul Sides Vol. 2.
"Slow Run" comes from Lee and the Dragonaires' self-titled album from the late '60s – long after the band had become legendary in the Caribbean but before the founding of Lee's own Dynamic label where most of the albums in the '70s and beyond would appear. It captures well the burgeoning "funky reggae" sound sweeping through Jamaica in the era; a real slick instrumental.
"My Sweet Lord" is one of my favorite of Lee's covers – a beautifully rendered version of an already classic song. And heck, since we were already on a Beatles tip, I figured I'd throw in another cover – this of "Live and Let Die" (best James Bond song ever?). First time I heard this, I figured it'd be kind of cheesy but the reggae-reworking of the main melody is surprisingly effective.
One of the upsides to Lee's prolificness was that his albums are still easily found in any record stores with a half-decent reggae section. Find your own and celebrate this late great's catalog.