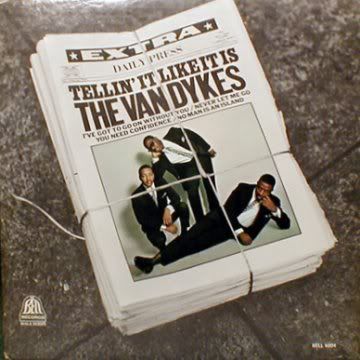 The Van Dykes: No Man Is An Island
The Van Dykes: Hey Lonesome Man
From Tellin' It Like It Is (Bell, 1967)
I first heard "No Man Is An Island" at the Groove Merchant and was instantly mesmerized by it though I couldn't put my finger on it at the time. Musically, this Forth Worth, TX vocal trio is backed by such a minimalist accompaniment – there's that low hum of the organ and a little electric guitar and that's about it – no drums, no bass, no piano, etc. But there is Rondalis Tandy's falsetto – oh yes, there is that. And backed with Wenzon Mosley and James Mays, the whole package manages to distill a pure essence of soulfulness that it is forever haunting.
The song was originally recorded for their producer Charles Stewart's label, Hue, but was quickly picked up by Mala Records where the group enjoyed a run of about half a dozen singles (most of them are expensive and in-demand). In 1967, Bell (which Mala was a subsidiary of) compiled most of these singles together for the Tellin' It Like It Is LP and then also added "Mr. Lonesome Man" (which hadn't appeared on single before). On that song, Stewart (I presume) adds "more" of a musical accompaniment but even with the addition of a bass, it still comes back to the piercing vocals to give the song its biggest impact.
Alas, the group didn't last for very long, apparently breaking up by 1968, with two of the members staying in TX while Tandy moved off to California. Despite their relatively short career, the group has attracted a serious following over the years, with several compilations dedicated to their material. Take a listen and understand why.
(Thanks to Marv Goldberg's excellent history)