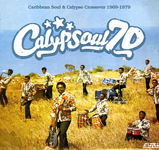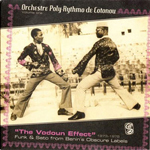 Lancelot Layne  Yo Tink It Sorf? 
Biosis Now : Independent Bahamas
both taken from the compilation Calypsoul 70 on Strut (2008)
Orchestre Poly-Rhythmo de Cotonou : Iya Me Dji Ki Bi Ni
& Mi Homlan Dadale
taken from the compilation The Vodoun Effect on Analog Africa (2008)
Here's a few picks from recent compilations that I've had in heavy rotation. I figure we must be approaching the tipping point where nearly all the good forgotten 70's funky stuff from around the world has been unearthed and re-issued and then what will be left but to turn to the 80's! I'm picturing comps of drum machine & casio weirdness from Syria- wait a minute, someone's already released that record (and it's actualy pretty good)! But perhaps I'm wrong and more bounty like this will continue surfacing for as long as my hearing is good.
The Lancelot Layne is a track that I already had in my collection from the great Jeff Recordings compilation that came out a few years ago (is this recycling the sign that we're nearing the end?), but I'm glad that I was reminded of it again on this new comp from Strut. What a certified banger! Still will kill a dancefloor to be sure- and I'm scheming a remix. The rest of this compilation maintains a similar level of caribbean heat with plenty of disco, funk and reggae in the mix. The track from Biosis Now is something I heard when my good friend Busquelo picked this LP out of a Brooklyn thrift store.
And big shout Samy at Analog Africa for putting together this latest collection of lo-fi, syncopated (and sometimes perfectly out-of-tune) Beninese rarities. When he lacks frequent updates to his website, it must be because he's busy putting out another solid and legit release like this one.
Sad update: on my way to host my weekly radio show, I absent-mindedly left my bag full of all my latest and greatest CDs on the subway (to be fair, I was perhaps awestruck by the beautiful young lady sitting accross from me, but still, I'm stupid). So I've now lost both of these albums as well as about 50 others- most I hadn't even ripped to digital yet. Thanks to the almighty that it wasn't my VINYL!!!