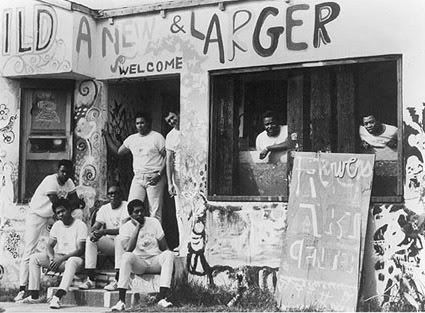 In case you missed the previous Watts Week posts:
Part 1
Part 2
Part 3
Part 4
As promised, I have a complete set of Wright/Watts CDs to give away. That includes all six Warner UK reissues of the original Watts albums (plus Wright's solo project on WB) PLUS the two Rhino Handmade compilations that I wrote liner notes for: Haunted House and Puckey Puckey. Ten discs total. As I said before, this is for true fans and the questions are created accordingly. Thanks to Andy Zax who came up with three of these.
To win the entire set, you have two options:
The (Not So) Easy Way: send in a jpeg of yourself with a vinyl copy of Charles Wright's solo album, A Lil' Encouragement on ABC.

If you can do this, you win automatically.

The Other Way: Answer all of the following correctly. The winner will be selected at random out of those with correct answers. Don't step up if you can't tackle all of these.

1) The Watts Band/Wright Sounds provided live musical backing for Bill Cosby in 1967, but at that point Cosby's musical career had already been in progress for two years. What band backed him on his very first musical release in 1965? (Helpful hint: the release in question is NOT Cosby's Silver Throat LP.)

2) Warner Bros-era versions of both sides of Charles Wright's rare pre-Watts Band solo 45 on Philips are included on these reissues. Can you name the songs?

3) At what intersection did the Haunted House once stand?

4) What Los Angeles radio personality was responsible (in part) for the first Watts 103rd St. Rhythm Band single? (Name the single too).

5) What studio did Bill Cosby and Fred Smith discover the original Watts Band at?

6) The Wright Sounds collected one member from the O'Jays and one of Joe Tex's band – name those two members.

7) What '70s pop star (of a famous duo) played with the Wright Sounds in its early years?

8) UPDATED: What 1960s Buffalo band did several of the Wright Sounds' members play rhythm section for?

9) What does the last Watts Band album share in common with albums by Blue Mitchell, Gene Harris, and Freddy Robinson?

10) Name three other artists who have covered "Express Yourself." (NWA does not count).

Whichever way you choose, email your responses to: soulsides AT gmail.com (and put "Watts contest" in the subject line).

*A note on shipping: U.S./Canadian winners get free shipping; anyone overseas has to cover shipping. Sorry but this on my dime and I can't cover int'l postage.
Good luck! I'll give folks a week to get answers in and select a winner after that.