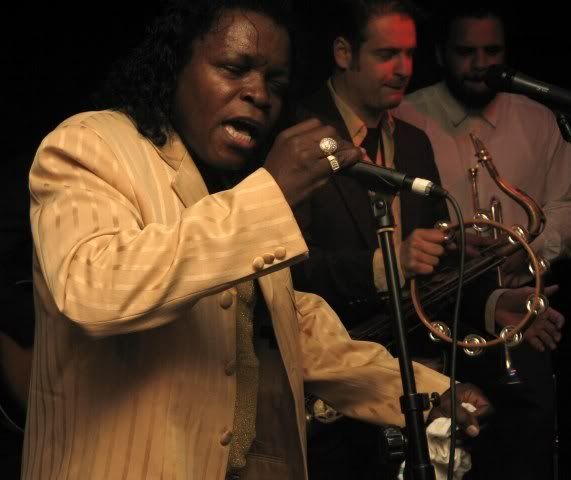 Lee Fields & The Expressions: Love Comes and Goes (snippet)
From 7″ single, B-side to "My World" (Truth & Soul, 2007). Forthcoming from Many Moods of Lee Fields.
Bronx River Parkway: La Valla (Soul Sides Edit)
From 7″ single (Truth & Soul, 2006).
This (and the next) post are a long, long time coming. Truth & Soul Records, run out of NYC, have become one of the few retro-soul labels which, in my opinion, challenge the quality and consistency of what Daptone Records has been putting out. That should be no surprise since Truth & Soul has roots going back to the days when Soul Fire Records (remember them?) was around and Leon Michels (of the El Michels Affair) was helping lead the Mighty Imperials. (I should be clear in noting: Daptone and Truth & Soul may be competitors but they're also allies and several of their releases share the same personnel).
The label first really came to my attention last summer, when I had both Lee Fields & The Expressions' "Honey Dove" on constant rotation and was stamping my late pass for how excellent the El Michael Affairs' Sounding Out the City was. And of course, there was the El Michels/Wu-Tang "Shaolin Series" 45s, plus the "PJs From Afar" 12″ with Raekwon. (Somehow, I managed to miss writing about these…um…oops?)
Later this week, I'm going to write about the new Truth & Soul release, Tyrone Ashley's Funky Music Machine (plus giveaways!) but wanted to play catch-up a bit first:
"Love Comes and Goes" is from the new Lee Fields 45 which came out earlier in the summer and it's the lead single for the upcoming Many Moods of Lee Fields album which T&S is putting out. It's no secret that "Honey Dove" is one of my all-time favorite retro-soul songs – an absolutely sublime track – but this new 7″ comes close to duplicating the same excellence. "Love Comes and Goes" is a beautiful ballad, especially with the vocal harmony on the chorus but both sides are killer. It's a great two-sider 45 (not a common occurrence by any means). However, only those with turntables can appreciate that now – for the rest of you, you'll have to wait for the CD to drop.
The Bronx River Parkway cut is something I slept on for a minute before Jared at Big City Records in NY hepped me to it by handing me a copy of "La Valla" and basically nodding, "try this. You'll like it." And indeed, I did: it's a hard-knuckled Afro-Cuban tune that reminds me of the kind of ferocious groove that something like Antibalas' "Che Che Cole" laid down. I gave this a slight edit – the opening piano is actually from one of the bridges in the middle and I brought it back to the beginning. By the way, the actual song is longer than this but I made it a snippet edit before realizing the 45 is currently out of stock (hopefully, this won't be a permanent condition). The Bronx River Parkway album is also supposed to be due out before the end of the year and expect us to write about that when the time comes.
---
Oh yeah: winners of the Budos Band contest: T. Booth, A. Garde, and B. Nate. Congrats!