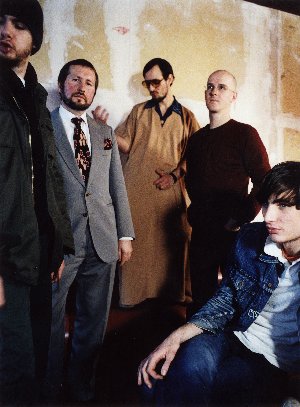 Amy Winehouse: He Can Only Hold Her (Live)
From a live recording from The Astoria, London (2/19/07)
Amy Winehouse: Rehab (Desert Eagle Remix)
From label (Universal Republic, 2007)
The Poets of Rhythm: It Came Over Me
From Practice What You Preach (Soulciety/Daptone, 1993/2006)
Sharon Jones: You Better Thing Twice
From 45 (Desco, 1998). Also available on Spike's Choice.
The Poets of Rhythm: Smilin'
From Discern/Define (Quannum, 2001)
Lee Fields feat. the Expressions: Honey Dove
From 7″ (Truth and Soul, 2005). Also on Fallin' Off the Reels.
Sharon Jones and the Dap-Kings: All Over Again
From Naturally (Daptone, 2005)
Alice Russell: High Up On The Hook
From My Favorite Letters (Tru Thoughts, 2005)
Breakestra: Hiding (QSO Remix)
From Stand Up EP (Ubiquity, 2006)
Nicole Willis and the Soul Investigators: A Perfect Kind of Love
From Keep Reachin' Up (Timmion, 2005)
Bonus: Nellie McKay: Won't U Please B Nice?
From Get Away From Me (Sony, 2004)
Sharon Jones and the Dap-Kings: What Have You Done For Me Lately?
From Dap Dippin' (Daptone, 2002)
The Retro Soul Primer Master Mix (all 12 songs in one).
Ok, I promised this post a few weeks ago and here it is.[1]
Note: this is NOT meant to be an end-all, be-all, definitive guide to "retro soul" (which I'll define in a moment). It's merely a primer to sketch out a combination of what I think are the key recordings in the lineage as well as a few personal favorites. The idea was indeed inspired by Amy Winehouse's new Back to Black since I see her, thus far, as the most visible face on this "movement" (if one wants to call it that) and I thought it'd be a good way to celebrate both her success as well as point out the larger community of artists that she's now fallen in with.
I start with Amy herself, beginning with "He Can Only Hold Her," a song that's on the album and that she also has been performing in concert. Even though the version here was recorded in London, whereas I saw her in Hollywood, she did the same set (more or less) at both shows. In both, she and her back-up singers – as you can hear here – slide into a rendition of "Doo Wop (That Thing)" by Lauryn Hill at the end of the song. I thought it was a cool moment, especially since (as you can hear) the crowd gets into it but it's a little funny too since Winehouse sounds a lot like Hill (not that there's anything wrong with that but it needs to be noted).
The second Winehouse song is something I downloaded directly through Universal Republic, the "Desert Eagle" remix of "Rehab" which uses, at the beginning, an interpolation of the same beat once used by Pudgee for his song, "Think Big" (which is better known for a cameo by Biggie as well as Lord Tariq).
Ok – now this is where the history lesson begins. First of all, retro soul. This is a term that I think is useful is distinguishing this style of soul from the more commonly heard "neo soul". The latter – exemplified by Erykah Badu, Jill Scott, D'Angelo, Angie Stone, etc. – is contemporary R&B that's clearly influenced by classic soul aesthetics but, for the most part, would never be confused with a vintage Motown or Stax song.
In contrast, retro soul deliberately plays with the listener's sense of time and era by crafting music that replicates the production style of vintage soul; in some cases, enough so that you may not have a sense of when the recording was actually made. At one point, the more "authentic" a song can sound as if it were from the past, the closer it achieved its ambitions. However, in more recent years, I think this has evolved to where complete duplication isn't as necessary, especially as artists want more leeway to move in, but there's still that unmistakable "sound" of the music which clearly is built off the styles of the past.
The great grand-daddy of this movement is likely Germany's – yes, Germany's – Poets of Rhythm who, all the way back in 1993, put out a retro soul/funk album, Practice What You Preach that has since become a collector's item in its own right (it's been reissued twice which says a lot about its popularity). The album was mostly funk-oriented (like most of retro soul up until more recently) but "It Came Over Me" as one of the few soul ballads that found its way onto the album. To me, it's just fascinating that in 1993, there was already enough of a nostalgia/yearning for the '60s/'70s era of R&B that these kind of songs were already being crafted.
However, the main push in retro soul began a few years later with the founding of Desco Records (now defunct) which made a major effort to press up 45s and LPs for artists like Lee Fields, Joseph Henry, the Soul Providers and Sharon Jones – the first lady of retro soul. "You Better Thing Twice" (and no, that's not a typo) wasn't her very first single for Desco but was part of that early batch of releases. Desco held it down for a number of years and upon its dissolution, it gave birth to two labels: Soul Fire and Daptone.
I've posted the Lee Fields before but it bears a second run; it's so damn buttery. Fields was another former Desco artist who now records with Truth and Soul and this version of "Honey Dove," recorded with the Expressions, is an update on the original version which appeared on Fields' 2002 Problems album. It's such a great song and it shows how retro soul has the potential to create these "new classics" by artists who never had their chance back in the day but who've found the career starts later in life.
Sharon Jones is back (and now we've moved up to her Daptone era), this time with my favorite song off her Naturally album from a couple years back: "All Over Again." I liked it so much, in fact, I comped it for Soul Sides Vol. 1 (but ya'll already knew that, right?). Most of her earlier material was in the vein of funky divas like Marva Whitney and Lyn Collins but "All Over Again" shows that she's equally adept at cutting a powerful ballad and I hope this means she'll be doing more. It's worth also noting that by this time in her career, it's Jones and the Dap-Kings together (they come as a unit, more or less) and for those who forgot, the Dap-Kings are also Winehouse's touring band and some of their members were part of Amy's studio band as well.
The Alice Russell is also from a few years back – I had known about her based on her collaborations with the Quantic Soul Orchestra but I had never heard her solo material and I thought this song, with Spector-esque production (check those drums!), was a great example of some of the directions and diversity that retro soul is now inclusive of. (Notably, Russell is often lauded as one of those "White-singers-who-sound-Black," a some what dubiously framed honor but it's meant as a compliment).
Breakestra deserves a mention on the list for a few reasons, not the least of which is that their "Getcho Soul Together" 45 from 199* was one of the few West Coast offerings in the retro soul tradition and they've long helped anchor the Los Angeles side of this community. I also thought it'd be good here to give the Quantic Soul Orchestra a chance to show their thing since they're definitely part of this movement too and they give Breakestra's "Hiding" a catchy, snappy touch.
Lastly, we end on my favorite retro soul album thus far – Nicole Willis and the Soul Investigators' Keep Reachin' Up. I've written about this album in the past and don't want to restate too much again but what I will say is that this song, in particular, illuminates how broad and beautifully these newer bands are able to execute a sound that obviously nods to vintage styles but doesn't sound like a complete carbon copy either. Mostly, it's just phenomenal sounding soul and that's good enough.
There are, of course, many other groups/artists that could have been mentioned here. If you like what you hear above, I suggest investing in many of those artists' catalogs deeper or you can also check out anthologies like Up From the Vaults and The Majestic Collection.
As for the bonus tracks, the Nellie McKay isn't retro soul (retro cabaret perhaps) but her ability to work with a throwback style and more importantly, her irreverent songwriting, made me think of her first when I first listened to Amy Winehouse. The two are hardly twins but there's something about their sensibility which reminds me of one another (especially for those who've listened to Winehouse's first album, Frank).
And I wanted to include one more Sharon Jones/Dap-Kings song, this one from their debut album and it's a very cool cover of Janet Jackson's "What Have You Done For Me Lately?" The song keeps Janet's lyrics but musically, is quite different, given the song a whole new feel. Pity I didn't remember this earlier – it would have made a fine inclusion on SSV2. Oops.
---
[1] I made the decision to divshare all these songs, partially because it's such a long post, I didn't want to push the bandwidth too far, partially as an experiment to see how well it would work. I know folks prefer direct MP3 hosting (as do I) but these alternatives are proving tempting to use, especially given how they reduce server load as well as allow for tracking, something I was never able to do before.
To make up for the potential annoyance of not having direct downloads, I made that master mix of all the songs strung together into one. I don't plan to make this a habit unless people prefer that I do master mixes in lieu of separate tracks (in other words, I wouldn't make both available except in extraordinary circumstances like these). My guess is that most would prefer separate tracks but I'll wait and see how feedback is.