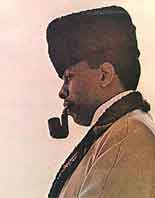 Erma Franklin: Piece of My Heart
From 7″ (Shout, 1967) (also on Golden Classics)
William Bell: I Forgot To Be Your Lover
From 7″ (Stax, 1968) (also on Best Of…)
No offense to Janis Joplin but f— Janis Joplin. Her big hit "Piece of My Heart," was based off of Erma Franklin's amazing original version of the song but unlike JJ, Erma never found cult stardom (or death at the bottom of a bottle) and certainly never came remotely close to the fame that her sister, this lil gal named Aretha, enjoyed. Erma's the veritable definition of "unsung" (though she sang quite a bit).
"Piece of My Heart," is a soul sledgehammer. It opens innocously enough, with a clean piano melody and Erma keeps the tone even-keeled. But about eight bars in, when the back-up singers start sliding on, the song muscles up quick, hard and fast to a chorus that just destroys you. This is a love song for those who've been ripped apart by love yet Erma doesn't bemoan her condition – she's like a love masochist and there is something in the fury of her singing that nails you straight in the gut. An amazing song.
As for William Bell, this Stax crooner's "I Forgot To Be Your Lover" has been getting quite the contemporary workout lately, covered by Jaheim, sampled by Dilated Peoples, etc. As usual though, the OG is mo' sublime, thanks to that intro guitar melody, amplified with just the right tough of reverb. I love Stax and I've listened to many tracks from their catalog but this may be the best opening I've heard of anything from Stax/Volt. Then Bell drops in the vocals and the strings start-up: this is the best Al Green song that he never sang and the best Willie Mitchell production that he never made. It's absolutely haunting and frankly, makes you wish people would just leave it well-enough alone and let the master do his thing.