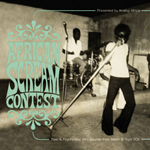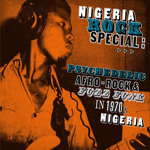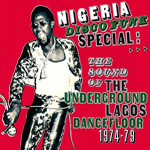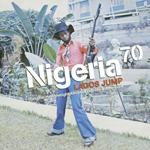 Gabo Brown & Orchestre Poly-Rythmo : It's a Vanity
taken from the compilation African Scream Contest on Analog Africa (2008)
Action 13 : More Bread to the People
taken from the compilation Nigeria Rock Special on Soundway (2008)
Asiko Rock Group : Lagos City
taken from the compilation Nigeria Disco Funk Special on Soundway (2008)
Sir Shina Peters and His International Stars : Yabis
taken from the compilation Nigeria 70: Lagos Jump on Strut (2008)
With the recent onslaught of African music compilations coming out, I found myself wondering if the genre of afrobeat, after 40 years of relative obscurity, had finally become mainstream? There was the anomaly of Manu Dibango's 1972 hit "Soul Makossa" which actually made it big abroad (to the extreme of being re-worked years later in Michael Jackson's "Wanna Be Starting Something"), but for the most part, even the biggest names in African music were completely unknown to most audiences off the continent. Fela Kuti was certainly low on the radar in his time, but today, I feel like his name (and certainly the genre of "Afrobeat" as a whole) actually bears some weight in popular consciousness. I suppose recognition 30 years too late is better than none at all. I know that I, for one, am not complaining about the vast, continent-wide vinyl archeology dig that seems to be taking place.
Analog Africa have found a particularly overlooked niche within the world of Afrobeat – Togo & Benin. Holy hotness is this shit ever raw! Out of all the comps, this one's probably my favorite. Aside from Poly-Rythmo and The Black Santiagos, I was unfamiliar with all the names on this collection. Nothing on here sounds like it was recorded after 1972- and ALL of it draws heavily from the power James Brown's early 70's material (which is about as good as it gets for me).
With the recent Soundway comps coming out back to back, it's honestly a little difficult to discern clear distinctions in sound from one to the next, but again, when the material is this solid, I'm not putting up an argument. Both Action 13 and Asiko Rock Group are new discoveries for me- and mindmelters to boot. The drums on "Lagos City" are just about the hardest thing I've heard since maybe this.
Meanwhile, Strut records continues their resurgence on the scene with this second West African installment – the first Nigeria 70 initiated my ears to these beats back in 2001 or so. This one focusses more on the traditional highlife and juju side of things, but there's some heavy funk cuts on here as well. One little thing that irks me about the Nigeria 70 records though: both this one and the original comp feature artists on the cover that aren't even represented on the tracklisting! I mean, they're cool photos and all, but I'm sure that there's some good pics out there of the artists that are actually a part of the collection (the first one had Prince Nico Mbarga on the cover and this one is Oliver De Coque– I know cause I have the LPs- neither of whom make a musical appearance anywhere here). Still worth it for for the music though.