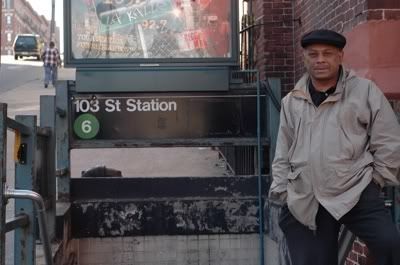 First off, for my Angelinos, Joe Bataan is playing at the Crazy Horse in West Covina on Sunday. See you there!
I recently finished up a set of liner notes for an upcoming anthology on Joe's rich recording catalog for the Fania label. As folks probably know, I'm a huge fan of Joe and it's been a genuine honor to be able to interview him over the years and bring attention to his remarkable career.
This post is part of the boogaloo series (and I'll do some more closer to the date the comp drops) but was really inspired by what is Joe's best-known song, "Ordinary Guy." It's not just a fan favorite – he's recorded it five times (and released it six) – but it's also a song integral to his own sense of self; he may be a star but in his own mind, he's still just a regular Joe (you saw that coming, right?) From the man himself: "While in prison, we did a lot of experimenting with songs. I had first heard the title "Ordinary Guy" in prison in Coxsackie, so I eventually rewrote the words, came back home, put 'em to music. The song makes me cry sometimes when I see the reaction of people. In New York, it is so popular. People just love that song, and I guess the words mean a lot. "Hey, I'm just an ordinary guy, don't expect anything else. That's me" and I've always been that way. Having sung the song and how I have endeared a lot of people, how they felt about it, only influenced me more [to] give more of my heart than almost any other song. It describes me."

CONTINUE READING…


Joe Bataan: Ordinary Guy
From Gypsy Woman (Fania, 1967)
The original version of "Ordinary Guy" was recorded for Gypsy Woman, Joe's debut album for Fania. He and his band, the Latin Swingers, recorded the album in one single studio session, a relatively unusual practice. By the end of the day, Joe had this – his last song – left to record but his voice was starting to give out. Session engineer (and Fania co-founder) Johnny Pacheco asked, "'Don't you want to come back tomorrow?' and I said no," said Joe. "Actually, my fear was that they were going to change their mind and not use it." So, even with his voice at the point of breaking, they recorded this and completed the entire album that day.
Ordinary Guy
From 7″ (Fania, 1967)
For reasons not entirely clear, Fania decided to re-record the song to release on single. For the most part, this 7″ version isn't wildly different from the LP except that Fania brought in pianist Richard Tee. Tee changes the opening to the song, giving it a stronger presence, especially with a striking arrangement that sounds very much like the beginning of Marvin Gaye and Tammi Terrell's "Precious Love." This is probably my favorite version of the song, precisely for that intro which gives the tune such a rich, soulful feel to it. (Thanks to Reynaldo for digitizing).
Interestingly, at the Crazy Horse show, when Joe sang "Ordinary Guy", he opened it with that same Tee melody.
Ordinary Guy
From Riot! (Fania, 1968)
By Joe's third album, the gold-selling Riot!, Fania convinced him to record the song again, but this time with a dramatic makeover as the song was given a new arrangement by Broadway's Harold Wheeler. Joe admits, "I didn't particularly like it…I love it now but at the time, I just thought he was altering my music because he gave it this jazzy feel. It had to grow on me because I thought it was too fast." This new version, in my opinion, is lovely and a great change-up from the original. Wheeler adds in some vibes, speeds up the tempo a bit, and has Joe open with some soaring vocals and well-timed drum hits.
It's worth noting, Fania put this same recording – albeit longer by a few seconds – onto Joe's Singin' Some Soul album. I'm guessing it's because they thought it'd fit well with the concept of that album. That would be the last time Joe recorded "Ordinary Guy" for Fania.
Muchacho Ordinario
From Salsoul (Mericana, 1973)
The next incarnation of the song is perhaps the most unique: a Spanish-language version that appeared on Joe's first post-Fania album, Salsoul. The arrangement is completely different too – here, the song isn't really in the R&B vein, it's much more like a son montuno. Bueno!
Ordinary Guy
From Afrofilipino (Salsoul, 1975)
The final version of the song came on the next album, Afrofilipino. This is a version I know a lot of Soul Sides folks are familiar with – I comped it for Soul Sides Vol. 1. I like to think of it as a bridge version between the Latin-fied flavor of "Muchacho Ordinario" and the more R&B stylings of the earlier versions. The song is more in a soul vein in the beginning but at the end, he yells, "salsa!" and the ballad then transforms into a whirling dance tune.