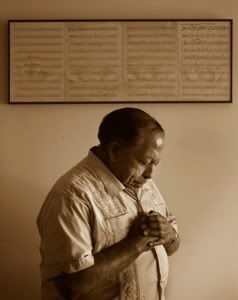 Cachao Y Su Ritmo Caliente: Descarga Cubana
From Cuban Jam Sessions in Miniature – Descargas (Panart, 1950s). Also available on The Havana Sessions.
Cachao y su Orquesta: Juan Pescao
From 7″ (Maype, 1958).
Bonus
Tito Rodriguez: Descarga Cachao
From Tito Tito Tito (UA Latino, 1964)
Gerardo Frisina: Descarga
From 12″ (Schema, 2001). Also on Ad Lib.
Israel López, better known as Cuban master bassist, Cachao, died early today. I don't profess to know Cachao's career intimately but even a beginner Latin fan knows he was a giant in the scene. My acquaintance and colleague Ned Sublette has gone as far to name Cachao, "the most important bassist in twentieth-century popular music."
His catalog is immense though it's easy enough to know where to begin: Cuban Jam Sessions In Miniature – Descargas, a groundbreaking moment in Afro-Cuban music and one of those essential albums for anyone interested in the genre. I included "Descarga Cubana" off that album as a way to highlight Cachao's skills as a bassist – that bassline is so simple, so deep.
The Cachao y su Orquesta songs are from a 7″ I picked up at the Groove Merchant back in the fall and both sides have been in constant rotation since ("Manicero" is on the flip and, with any luck, will be featured on an upcoming Latin dance mix-CD I've been working on). You can hear on "Juan Pescao" the meeting point of some classic Cuban musical traditions – more stately and formal – with the upcoming revolution in rhythm that Cachao and his compatriots were assembling in after hours Havana.
The two bonus songs show how influential Cachao was with other musicians. Mostly obviously, it's Tito Rodriguez's "Descarga Cachao" which flips on the original "Descarga Cubana". Likewise, Gerardo Frisina's great 2001 club 12″, "Descarga" is another remake of sorts (he subtly changes the bassline riff, but you can still hear the obvious reference back to Cachao).